Name
Lindsay Stuiber
Title Talent Acquisition Specialist / Headhunter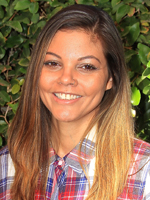 Lindsay is the Managing Director of Green Rhino Staffing, a recruitment agency headquartered in Phoenix, AZ focused on all levels of recruitment (Manager, Director, C-level), servicing IT, payments and fin-tech markets in the US, Canada and the EU.
What event or series of events led you to pursue the field of recruiting as your professional choice? Please elaborate.
Several years prior to entering recruiting, I had a conversation with my friend and career mentor. I mentioned that I felt I had achieved everything I had set out to do at my current job, but I had "golden handcuffs" so to speak. I was afraid to take the leap, but I needed something more. This mentor had been in technical recruiting for decades and told me I had the inherent skills and abilities to be successful in that arm of recruiting. It took some planning due to the risk involved with leaving a solid position for a base + commission role, but I thought it through and then eventually had several offers with various recruiting agencies. At the end of the day, I chose Robert Half simply because I really liked the people and what they were doing over there. Then, in 2015, I had the opportunity to open Green Rhino Staffing and I have been doing that ever since.
Name three top tips you would offer the recruiting professional just entering the field:
Pick a vertical, get to know it, roll your sleeves up, and get embedded in it. Pick a vertical within the vertical at first just until you really learn the field, so for example, a segment of tech recruiting like SaaS. Oh, and don't get out once it gets hard – it will get hard, you just have to stick it out if you have that type of personality.
With more career-seasoned folks (people who are leaving a different position you have really exceled in) your first 90 days you will think you made a mistake. It is super hard at first, but at that point, you have to know a choice needs to be made – will you stick it out and get the long-term rewards, or will you leave and do something easier for the short term?
Regardless of what company you represent – you are your brand. Hiring managers work with people who they like and can trust. Be ethical, follow up, do all the things you can expect a good recruiter to do. There can be some bad apples since there is not a huge barrier to entry into this field, so you will have to build trust and work well with hiring managers to make a good name for yourself in this industry. People respect recruiters who value their own time and don't waste time with situations that won't result in a placement.
What are the challenges, or obstacles that a new recruiting professional may face?
New recruiters should know that it takes a lot to make a placement, and one of the more challenging things can be figuring out the order of operations that works for you – this is going to be key. I would say as far as getting a handle on the flow – and the deliverables will change every day – you have to figure out how are you going to get a win every day. What constitutes a 'win' could change depending on the job or company.
Can you give us an example of an interesting case or job hunt that you were a part of and your role in helping to achieve a positive outcome?
My company, Green Rhino, is a play off a term used in staffing called 'purple squirrel' – similar to finding a 'unicorn' which in the working world is someone really hard to find – someone with skills and abilities that are unlikely to be in one individual. So, Green Rhino is a play on that – we are super good at finding those individuals that might be a 'unicorn' or a 'purple squirrel' to someone else. Green Rhinos are our specialty. We enjoy finding people outside the box, otherwise hard to find people.
One hiring manager wanted a particular type of developer – one who could code at a senior level in one language but that would come in to his company and learn a completely new language but they would be more of a novice to mid-level, whereas in their current role they are probably a senior. This is a hard sell to a candidate because for one thing, devs can be comfortable in their stack and don't usually take a step back to learn something new, but secondly, this would mean a pay cut. Not only that, but the hiring manager was very specific on the amount of time they would have to learn this new stack, and also on the degree they needed to have.
So, I did source a great candidate, fit all the boxes and a week before his start date, he accepted a position with a title he liked better. Luckily, I was able to source another candidate that fit the background who was able to start and is still there, thriving and growing a team.
The biggest takeaway there was I just really understood what the hiring manager was looking for so I could sell this role as an opportunity instead of a step down. I heard no over and over, so you just really can't be afraid to hear no. I kept reposting and kept trying, no matter what. I went over the true benefits of the role and the management style of the hiring manager and that was the selling point.
What is the best career advice you have ever received?
Recent advice – don't let people waste your time. It can be frustrating working in agency contingency recruiting – so my business model has had to evolve. Now I work as a long-term partner and I am choosier about whom I work with. I try to only work with people who value my time and me. Don't think about the competition because there can be a lot – just be ethical and true to yourself and value your own time and skills and you won't have to worry.
As an experienced professional in recruiting, what role do you feel technology is playing?
Some really good things are happening with automation, meaning the mining path throughout the day a lot easier. We can operate a lot easier this way. People are putting together platforms that are automating lots of parts of our day, and we are getting matched with great resumes.
The one thing you can't automate is relationships and active listening. Middle of the road recruiters are using this automation to do more but they are not necessarily doing a better job, whereas the great recruiters are going to leverage the automation to save them time on certain tasks and take more time for the relationship side, which will really set them apart.
What is the key strength you bring to your career and how would you advise other recruiters to utilize their own strengths?
I am pretty tenacious, which is good because you are going to hear no a lot. I am pretty driven as a person, which means I am not going to wait for someone to tell me what to do next – I just need a framework and I can go on my own.
If you have that sort of mentality you can succeed regardless of your background. I am also genuinely curious – this is good particularly in tech because it is always evolving. I really enjoy it, I like learning about what the hiring managers do, what their companies are like and what the candidates do. I think this interest in the field is what really comes across. My advice to is really dig in and be committed to your vertical.
Anything else?
I have seen people from all fields get into recruiting – even someone with a nutrition degree, although I don't think they lasted long. Most people have a business management and sales background.