Cheapest Renters Insurance in Florida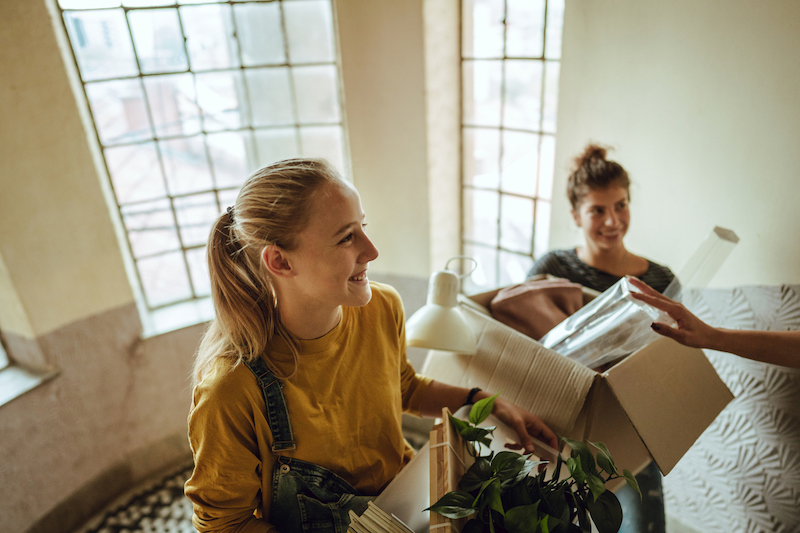 Getting the best renters insurance in Florida is one part of going away to college that many students and families should consider. College students leaving home for the first time are often unfamiliar with things like insurance because they've never had to deal with or worry about it before. Renters insurance for students is very important because it offers protection should their personal belongings be damaged or destroyed by a covered incident.
Renters insurance is offered through various Florida insurance companies. Finding the best and cheapest renters insurance in Florida involves research and shopping around for the best policy at the best cost.
Why Do College Students Need Renters Insurance?
Although college students don't typically own as many possessions as adults, they do have more belongings than they might think. It's usually not until they must replace their belongings that they realize how much they really do have. With the busy lives college students lead, worrying about losing their personal belongings should be the last thing they have to think about.
However, everyday college students have to suffer through some sort of disaster or catastrophe. It might be a fire, tornado damage, vandalism, theft, or some other covered loss. As much as we like to think we won't ever suffer a loss, it happens more often than we would like to think.
When approached about renters insurance in Florida, one of the first questions asked is "How much is renters insurance in Florida?" The answer varies from one company to another, but some companies state they can offer renters insurance for as low as $10 per month.
Rates vary not just by the company but also by coverage amounts. Keep in mind that renters insurance only covers your personal belongings or the things inside the building. It does not cover the actual building. The landlord is the one who has the responsibility to carry homeowner's insurance on the actual house and/or garage.
Do I Need Renters Insurance in Florida? A Look at College Crime Statistics
Burglaries are a big problem among college students. College students living in Florida may be at an even higher risk for burglaries because it's such a populated state and also one known as a great tourist state.
Of all the possible crimes, burglaries, and crimes on properties (property destroyed or stolen) continue to be the biggest crimes affecting college students. Below you will find some burglary and property crime statistics on various college campuses in Florida as of 2018.
Florida A&M University in Tallahassee – 4 burglaries and 97 property crimes.
Florida Atlantic University in Boca Rotan – 20 burglaries and 160 property crimes
Florida Gulf Course University in Fort Myers – 1 burglary and 53 property crimes
Florida International University in Miami – 28 burglaries and 355 property crimes
Florida Polytechnic University in Lakeland – 0 burglaries and 6 property crimes
Florida Southwestern State College in Fort Myers – 2 burglaries and 14 property crimes
Florida State University in Tallahassee – 38 burglaries and 523 property crimes
University of Central Florida in Orlando – 27 burglaries and 297 property crimes
University of South Florida in Tampa – 54 burglaries and 323 property crimes
University of Florida in Gainesville – 32 burglaries and 367 property crimes
How Much is Renters Insurance in Florida?
The answer to this often-asked question is not all that simple because there are various factors that go into determining the cost of renters insurance in Florida.
Where You Live – This is probably the biggest factor. As you can see from the statistics, the crime rate is higher in some cities than in others. If you live in a city with a high rate of crime, the premiums will be higher. How far you live from a fire department also plays a role in premiums.
Coverage Amount – The amount of coverage you choose also determines rates. The higher the coverage, the higher the premiums. While you don't want to overcover your personal property, you also want to have enough coverage to replace all your items in the case of a total loss.
Deductible – The deductible is the amount you have to pay on a claim. If you have a $1,000 deductible and are making a claim for $10,000, you will pay the $1,000, and the insurance would pay $9,000.
Actual Cash Value (ACV) or Replacement Cost Value (RCV) – Some insurance companies offer you the choice of ACV or RCV. With ACV, the insurance company will pay you the value of the items at the time of the loss regardless of what it costs to replace them. With RCV, the insurance will pay you what it will cost you to replace the items. RCV will result in higher premiums, but you'll have enough money to replace the items.
Type of Dwelling – Most insurance companies want to know not just how old the house/apartment is but also what it's made of. The premiums for a brick or concrete home
Credit Scores – Believe it or not, many insurance companies charge higher rates for those with poor credit.
Below is a sample quote for a 20-year-old college student living in Florida. You'll find sample quotes for five different Florida cities all with the same insurance company. The quotes are based on a policy that offers $60,000 personal property coverage; $100,000 personal liability coverage; $1,000 medical payments to others; and $24,000 for loss of use/additional living expenses.
Sample Quotes for a Florida College Student
| | |
| --- | --- |
| City | Cost per month |
| Hialeah, FL | $58 per month |
| Miami, FL | $60 per month |
| Lakeland, FL | $26 per month |
| Fort Myers, FL | $41 per month |
| Orlando, FL | $26 per month |
The Best and Cheapest Renters Insurance in Florida by Company
When searching for renter's insurance in Florida, some look for the best insurance, and others look for the cheapest insurance. Why not look for the best and cheapest renters insurance in Florida? The best way to do this is by researching many companies and the various policies they offer. Fortunately for you, we've done some of the leg work for you. Below are some sample rental insurance policies for students in Orlando, Florida along with their most popular coverage amounts.
Lemonade Renters Insurance
Lemonade offers a renters insurance policy for $26 per month. This policy offers:
Personal property – $60,000
Personal liability – $100,000
Medical payments to others – $1,000
Loss of use/Additional living expenses – $24,000
Deductible – $1000
When students choose a renters insurance policy, they can customize the policy to provide them with the coverage they need at a cost they can afford. They also offer various additional add-ons they can purchase to match their lifestyle. Most of these add-ons only cost a couple of dollars per month or may even be free.
Some of the add-ons are coverage on certain electronics or adding on a spouse or significant other. Filing a claim with Lemonade is very easy because it can be done right on the company's website. If it's an uncomplicated claim, payment on the claim is almost immediately.
Lemonade is a very popular insurance company with a very good reputation. They received a Financial Stability Rating of A (exceptional) by Demotech Inc.
Progressive
Progressive insurance is a highly reputable company that offers many types of insurance, including renters insurance that's very comparable to other companies. They offer several additional things to their basic policy that are not offered by other companies. Their basic renter's insurance policy costs about $43 per month and offers this coverage.
Personal Property – $60,000
Personal Liability – $100,000
Medical Liability – $1,000
Deductible – $500
Mold property protection – $10,000
Mold liability protection – $50,000
Renter's insurance through Progress may come through a third-party agency. Renters have the option of paying their premiums monthly, quarterly, bi-annually, or annually. Progressive has been ranked very highly with NerdWallet and similar companies.
Allstate Renters Insurance
Allstate Insurance Company offers students renters insurance with several additional add-ons they can add to their basic renter's policy. They also offer renters the choice of being paid ACV or RCV. Allstate does not provide quotes online. You could have to speak directly to an agent to get an accurate quote. However, they do advertise that you can get a basic renters insurance policy for about $16 per month.
When filing a claim, students have the option of filing on their mobile app or through the company's website. The advantage of filing on the mobile app is that students can track the claim status through the app. NerdWallet gave Allstate a rating of 4.5/5, and the Better Business Bureau gave them a grade of A.
Safeco Renters Insurance
Safeco offers students a good basic renters insurance policy at a decent price. For $20 to $22 per month, students can get the following coverage.
Personal property – $50,000
Personal liability – $100,000
Medical payments to others – $1,000
Loss of use – Must call agent for coverage amounts and cost
Deductible – $1,000
Safeco does offer add-ons such as:
Valuable items coverage
Personal property replacement cost coverage
Identity theft coverage
Electronics coverage
If students need to submit a claim, they must contact the company directly. Safeco has earned grades/ratings of A from Better Business Bureau, AM Best, Moody's, and Standard & Poor's, and NerdWallet.
American Family Renters Insurance
For many years American Family has been providing customers with insurance of one kind or another. Their renter's insurance is very affordable. You do have to contact them immediately to get an accurate quote. However, they do advertise that one of their popular policies would cost between $30 to $35 a month and would offer the following coverage.
$25,000 – Personal Property
$300,000 – Personal Liability
$5,000 – Medical Liability
$7,500 – Loss of Use
$1,000 – Deductible
American Family offers a diminishing deductible that starts as soon as you purchase your policy. With this discount, your deductible will automatically be decreased by $100. It will continue to go down each year that you do not make a claim.
Claims can be done over the phone, on the mobile app, or on the computer through their website. American Family is regarded highly. It received a 4.5/5 from NerdWallet and a grade of A from the Better Business Bureau.
Nationwide
Nationwide offers renters insurance to students in Florida, but they do it through several agencies located throughout the state. They do not provide their sample coverages and rates online, but they state that a basic renters insurance policy costs about $20 per month. Their policies provide coverage for personal property, medical payments to others, personal liability, and additional living expenses.
Nationwide also offers coverage for building additions and alterations as well as credit card coverage. The claim process for Nationwide is relatively simple and can be completed over the phone or submitted online. Nationwide has been rated highly with an A+ from the Better Business Bureau and a 5 out of 5 from NerdWallet.
GradGuard
GradGuard doesn't really offer what most consider a basic policy because they allow renters to choose the coverage they want in each coverage area, including liability, personal property, and deductible. They can customize the policy to get the coverage and cost they want. Their policy costs about $26 per month and offers the following coverage.
Personal property – $50,000
Personal liability – $100,000
Medical payments to others – $1,000
Loss of use – Must call agent for coverage amounts and cost
Deductible – $250
One benefit of GradGuard is that they do not use credit scores to determine rates. This can be important because many college students have low credit scores simply because they have little or no credit. This company also offers several add-ons for personal belongings that are worth more than is covered in a simple policy. GradGuard is highly regarded among renters and in reviews.
Students must contact the company to submit a claim and will have to provide proof of policy and proof of ownership on anything they are claiming as a loss.
USAA Renters Insurance
USAA offers renters insurance but is usually aimed at military students or students who have family members that are in or have been in the military. USAA does not provide renters with an online quote. Interested parties would have to open up an online account and submit an application to actually get a quote.
Cheapest Renters Insurance in Florida by Monthly Premium
After reading the information on the various renter's insurance companies, it might be easier to find the best and cheapest renters insurance in Florida. Below are the companies with the premiums listed from cheapest to highest.
Allstate – $16
Nationwide – $20
Safeco – $22
Lemonade – $26
GradGuard -$26
American Family – $35
Progressive – $43
What Renters Insurance Will Cover in Florida
Renter's insurance in Florida pays for the repair or replacement of your personal belongings and covers you for personal liability, medical payments and loss of use. Most renter's insurance in Florida covers things like:
Theft
Vandalism
Smoke damage
Fire damage
Weather damage
What Renters Insurance Typically Will Not Cover in Florida
Renter's insurance in Florida will cover almost anything that's listed in the policy but only to the maximum dollar amount listed on the policy. They will not cover flooding, structural damage, earthquakes, or valuable things that are not specifically itemized on the policy.
Next Steps
Get a quote for renters insurance in Florida so you can assess your particular situation. Remember, even if not required by your landlord, renters insurance can offer you peace of mind. Sarah Gilbert is a licensed insurance broker, specializing in auto, home and renters insurance products. She reviews insurance content on College Educated for accuracy and has a particular passion for making sure that college students and recent graduates have proper insurance coverage. Her latest passion includes researching all forms of business insurance, to ensure that recent college grads who look to entrepreneurship can have the right protection.