Law and Legal Studies Degree Guide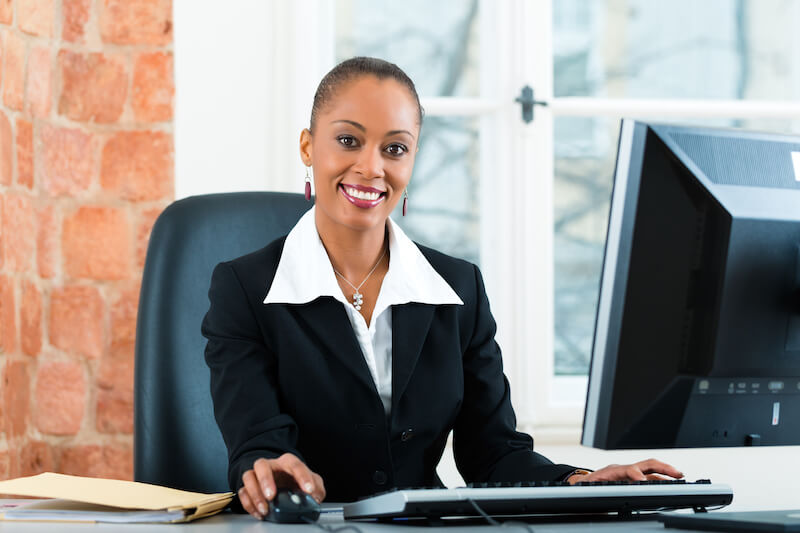 The study of the law is not reserved only for those looking to work as attorneys. There are many other people who make up a legal team, including legal assistants, paralegals, and even those who work in public policy or academia.
There are educational opportunities for anyone wanting to study the law at any level, from an associate's degree all the way to the most advanced legal degree. By earning a degree in legal studies, you can gain a vast knowledge of ethics, public policy, history and specific laws and statutes, and depending on how far you want to take your education, this will inform how and where you can work. In the world of legal studies, many of these degrees can be earned completely online, even a Juris Doctor (J.D.), which is the degree on the path to becoming a lawyer.
Excellent Wage Potential
As of May 2021, lawyers and others working in the legal field earned an average annual wage of $127,990.
Numerous Career Opportunities
Earning a degree in legal studies prepares students for a variety of careers in different fields, including legal assisting, politics, law education and more.
Rewarding Careers
Understanding and explaining the law to others is an important part of our society. Whether you work as a lawyer or an educator, or a support person in the law field, studying the legal field is an important asset to any business.
Associate Degrees in Legal Studies

An associate degree is a two-year, 60-credit degree that is a precursor to a bachelor's degree. You can earn an associate's alone, or you can transfer the credits into a more advanced degree as you look to grow your career. In an associate program, you'll take mostly general education courses and some specialty courses related to the major. An associate's degree is the entry-level degree to start working in the legal field.
Many colleges offer associate's degrees 100% online.
Online Programs
American Military University
Online Associate of Science in Legal Studies
The Associate of Science in Legal Studies is a 60-credit degree that teaches people how to work in the legal field. You'll learn critical thinking, writing skill, legal jargon and management skills. You can gain knowledge that will prepare you for roles such as paralegal, legal assistant, victim advocate and other roles.
Herzing University
Associate of Science in Legal Studies
Herzing offers a variety of degrees in legal studies, ranging from an AS degree up to Bachelor of Science in Legal Studies. Graduates from the Herzing program are eligible to take the Certified Paralegal exam offered by the National Association of Legal Assistants (NALA). With the associate's degree, you can work in paralegal or legal assisting.
Liberty University
Associate of Arts in Paralegal Studies
Liberty University is a Christian university that offers a 100% online AA in Paralegal Studies. This program is 60 credit hours and will take about 1.5 hours to complete. Liberty has 8 start dates per year and 8-week courses to allow you to focus on your education. You'll learn fundamental legal skills, how to be an asset in a legal office and build a foundation for a future bachelor's degree.
Bachelor's Degrees in Legal Studies

A bachelor's degree is the most common degree if you are looking to get started in the legal field. When a degree is completed on campus, it can take four years or more. If you enroll in an online program, you can complete the program at a more rapid pace.
Graduates of the bachelor's degree program are qualified to work in a business or a legal setting (not as an attorney) but can take the LSAT to qualify for law school if a legal career is the end goal.
Bachelor's Degrees in Paralegal Studies
Online Programs
University of Maryland Global Campus
Bachelor of Science in Legal Studies
The 120-credit bachelor's degree from UMGC gives you a background in American civil and criminal law, institutions, and legal systems. You'll take 33 credits for the major in things like Torts, Legal Ethics and Techniques of Legal Research. You will also take 41 credits of general education and 46 minor and elective courses.
University of Oregon
Minor in Legal Studies
The University of Oregon has a minor in Legal Studies that can be added on to a Bachelor's degree. To earn it, you'll need 24 credits in Legal Studies and these include courses in Business Law, Environmental Law and Policy, Contracts in Society and other courses designed to help you understand the law and how to apply it to your life in a business setting.
University of Central Florida
Online Legal Studies, BA/BS
If you are looking for a pre-law degree, then a bachelor's in legal studies may be right for you. With a bachelor's in legal studies from UCF, you can start learning about law and business and how they intersect. You can specialize in public law, litigation, criminal law, and others. All instructors in this program are graduates of ABA-approved law schools.
Master's Degrees in Legal Studies

A master's degree in legal studies is a common degree someone will earn if they are looking to work in this field. Called a Master of Laws, the LLM degree is a graduate-level program that prepares people to work in the legal field or in politics or public service. Many students pursue a master's degree after earning a bachelor's degree because it allows them to advance their career.
Online Programs
Florida State University
Juris Master Online Program
This 100 percent online program from FSU is a 30-credit hour Master of Law degree that can be completed full or part-time, which is great for working students. FSU has a top 50 law school, and is a top 20 public university, so you know your education will be quality here. You can attend classes asynchronously, engage with the FSU faculty and professional network, and use their academic and career resources.
Arizona State University Online
Online Master of Legal Studies
If you are looking to learn more about the law, without practicing law as a licensed attorney, then look to this program. You can choose from 12 potential focus areas including Indian gaming, intellectual property law, sports law and more. The MLS degree is different than a Juris Doctor, as a JD prepares students to take the Bar exam and work as a licensed attorney, while an MLS degree prepares students to work on the aspects of law that are relevant to your professional path.
Advanced Legal Degrees
An advanced legal degree is a Juris Doctor, or J.D. degree. You must pass the LSAT and get accepted to law school, which is an arduous process. Most law programs are in-person, however, there are now some that are available online. You want to make sure that your law degree is accredited by the American Bar Association, so you meet the qualifications to take the bar exam and practice law in your state. You can also earn a Ph.D. in Law if you are looking to research or be an academic.
Another advanced degree is a Master of Laws, or LL.M. degree, where you must have a J.D. to earn this degree, and it is for already licensed attorneys. If you are interested in Online LLM Programs, check out our ranking.
Online Programs
Finding an online program means doing your due diligence to ensure the program is accredited and that you can fulfill all the obligations for the degree. If you are looking for a law degree online, you must check accreditation as there are very few online programs that are approved by the ABA.
Liberty University Online
Doctor of Law and Policy (DLP)
This 100 percent online program has 8-week courses and takes 60 credit hours to complete. If you start with zero credits and take the courses as recommended, you can expect to earn your DLP in approximately three years. This degree is for non-attorneys and is instead for people who work in ethics or public policy and want to be more knowledgeable and have more of an impact.
Trinity Law School
Juris Doctor Online
The Juris Doctor at Trinity Law School is unique in that it can be completed online, on-campus, or a combination of both. To graduate, you must have 74 required course credits and 16 electives, which should take about three years to complete. If you attend part-time or as part of their Flex Track program, you can complete the J.D. in about four years. All students are prepared for the California Bar Exam upon completion of the program.
University of London
Ph.D. with the Institute of Advanced Legal Studies
This unique program gives you an opportunity to study with one of the UK's foremost institutions in a distance learning format. You can complete this program full-time (three years) or part-time (six years) and gain doctoral research level learning in various kinds of law, including Company Law, Criminal Law, Energy Law, Law and Society and more. While this is a distance learning program, you will still need to visit the London campus at regular intervals, so make sure you prepare for that.
Careers in the Legal Field
Lawyer – Considered the preeminent career in the legal field, a lawyer needs a J.D. degree, to pass the bar exam and to meet other requirements in their state to practice law. A median salary range for a lawyer is $127,990, according to the BLS.
Paralegal – A paralegal supports lawyers by helping to prepare cases, organizing documents, taking notes, filing briefs and exhibits and many other tasks that help the legal system run smoothly. A median salary for a paralegal is $56,230.
Legal Assistant – A paralegal is sometimes also referred to as a legal assistant, although in some firms these roles may have different responsibilities. A median salary for a legal assistant is $56,230, with some earning $88,640 in the high range.
Law Clerk –Judicial law clerks work for state and local governments and have the largest presence in big cities where there are many courts. A judicial law clerk can earn a median salary of $66,310.
Legal Secretary – A legal secretary is a secretary versed in legal terminology, procedures, and documents. They can earn a median annual wage of $54,180.
Legal Administrative Assistant – Like a legal secretary, a legal administrative assistant is specifically trained in the legal system. Their salaries range up to $81,400 in the top tier, and mainly work in legal services and local government.
Next Steps
Starting your career in the legal field means taking the first step – enrolling in a degree program. Whether you are starting from scratch or are already on your way to a degree, moving forward with the next level of education can get you the career of your dreams.