How to Become a High School Teacher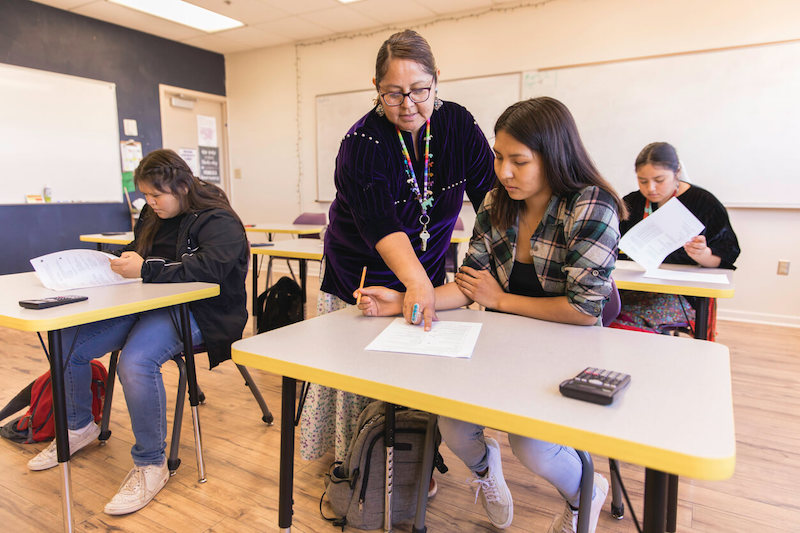 High school teachers play an essential role in creating a positive and engaging learning environment. They plan and deliver instruction to students in a specific subject area. High school teachers are also responsible for creating lesson plans, grading assignments, administering and grade tests, assessing student progress, providing feedback, and communicating with parents and other teachers. High school teachers often serve as mentors and advisors to students, helping them navigate the complex and challenging teenage years.
High School Teacher Career Outlook
According to the Bureau of Labor Statistics, employment of high school teachers is projected to grow 4% from 2020 to 2030, about as fast as the average for all occupations. This growth is driven by increasing enrollment in high schools and a need for qualified teachers to replace those who retire or leave the profession. The demand for high school teachers will be driven by a growing population and an increasing focus on education and student achievement.
High School Teacher Salary
The average salary for a high school teacher varies depending on location, education, and experience, but it is around $60,000 per year. However, salaries can range from $40,000 to $80,000 and may be higher in certain states, especially those states with a high cost of living such as California and New York, for those with advanced degrees or certifications, or for those who specialize in subjects such as math and science.
Teachers who specialize in math and science may earn higher salaries than those who teach English and history According to the Bureau of Labor Statistics, the median annual wage for high school teachers was $61,660 in May 2020. The lowest 10 percent earned less than $43,180, and the highest 10 percent earned more than $98,430. High school teachers may also receive benefits such as health insurance, retirement plans, and paid vacation time.
How to Become a High School Teacher
High school teachers help students develop the critical thinking and problem-solving skills they will need to be successful in college and in their future careers. To become a high school teacher, you must meet specific educational and certification requirements. Below, we explore the steps on how to become a high school teacher, including the education and training needed, certification requirements, and how to find a job as a high school teacher.
The first step to becoming a high school teacher is to earn a bachelor's degree from an accredited college or university. You will need to choose a major in the subject area you wish to teach. Common majors for high school teachers include English, math, science, social studies, and foreign languages. Some colleges and universities also offer education majors that will prepare you for a career in teaching.
This typically takes four years to complete and includes coursework in curriculum development, classroom management, student assessment, and teaching methods. Many states also require that you have a minimum of a 2.5 GPA to become a teacher.
2. Complete a teacher preparation program
To become a high school teacher, you will be required to complete a teacher preparation program during your undergraduate studies. This typically takes one year and includes coursework, student teaching, and other field experiences. You will need to complete a student's teaching experience, substitute teaching experience, or work as a teaching assistant. This is a supervised teaching experience where you will work with a mentor teacher to gain hands-on experience in the classroom. This program is typically offered through the college or university, and the experience is usually completed during your senior year. You will need to complete a certain number of hours of student teaching. In some states, you may require additional student teaching hours before you can be certified to teach.
3. Pass certification exams
To become a high school teacher, you must pass your state certification exams. Most states require that you pass a certification exam, such as the Praxis II Exam. These exams test your knowledge of the subject area you wish to teach and your teaching skills and abilities. You will also need to pass a basic skills test, such as the Praxis Core Academic Skills for Educators, which tests your reading, writing, and math knowledge.
4. Get a teaching license
After passing the certification exam, you will need to get a teaching license. This license, issued by the state where you wish to teach, will allow you to work legally as a high school teacher.
5. Apply for a teaching job
After obtaining a teaching license, you can begin your search for a job as a high school teacher. Many high schools post job openings on their websites, and you can also find job listings on education job boards and websites by attending job fairs or contacting local schools directly. When applying for a job as a high school teacher, you will need to submit your resume, cover letter, and copies of your certification and teaching credentials. You will also need to take part in an interview process, which may include a teaching demonstration or lesson plan. Many school districts require new teachers to complete a probationary period, typically lasting one to three years, during which they are evaluated on their performance and are given support and feedback to help them improve.
6. Complete ongoing professional development
After becoming a licensed high school teacher, it is essential to maintain licensure and stay current in the field. This typically includes taking additional coursework, attending workshops, and taking part in professional development opportunities.
Some states may require teachers to pass a certification exam every few years to maintain their licenses. Also, some high school teachers may choose to earn additional certifications or degrees, such as a master's degree in education, to advance their careers, become more specialized in a specific subject area, and earn a higher salary.
A master's degree in education can qualify you for leadership roles, such as department head or school administrator.
How to Improve your Position as a High School Teacher
On your road to become a high school teacher, you can take courses or earn additional degrees, take part in workshops, conferences, and other professional development opportunities. Also, gaining certifications or licenses in your field of expertise can improve your position in education, including:
1. Network
Connect and build relationships with other educators and professionals in the field. This can help open up new opportunities and provide valuable resources and support.
2. Build a solid professional portfolio
Highlighting one's achievements and skills through a portfolio can help make a strong case for promotions or new job opportunities.
3. Volunteer
Volunteering in schools or educational organizations can help you gain valuable experience and show your commitment to the field.
4. Publish research
Publishing research or articles on education-related topics can help establish oneself as an expert and thought leader.
5. Get involved in educational policy
Joining educational policy groups or organizations can help you stay informed about educational policy changes and provide opportunities to influence the direction of education.
A Day in the Life of a High School Teacher
A typical day in the life of a high school teacher can vary depending on the school and subject area, but includes the following tasks:
Preparing lesson plans and materials
Delivering instruction to students
Assessing student progress and providing feedback
Meeting with parents and other teachers to discuss student progress
Planning and supervising school-wide events and extracurricular activities, such as sports teams or clubs
Advising and mentoring students
As the field of education evolves, online teaching and virtual classrooms are becoming increasingly popular, and many school districts are looking for teachers who are comfortable teaching in these environments.
Consider focusing on a specific area of teaching, such as special education or science, technology, engineering, and mathematics (STEM) education, as many school districts have shortages in these areas and may be more likely to hire teachers with expertise in these subjects.
Conclusion
Becoming a high school teacher is a rewarding and challenging career path for individuals passionate about working with teenagers and helping them reach their full potential. This profession requires a significant investment of time and effort and a combination of education, experience, and a commitment to ongoing professional development.
High school teachers play a crucial role in shaping the minds of young adults and helping them prepare for their future, both academically and personally. The specific requirements on how to become a high school teacher can vary depending on the state and the school district.
It is essential to check with your state's Department of Education to confirm the requirements in your area. As challenging as this career choice is, the rewards of helping young adults prepare for their future and shaping their minds make it all worth it.