How to Become a Math Teacher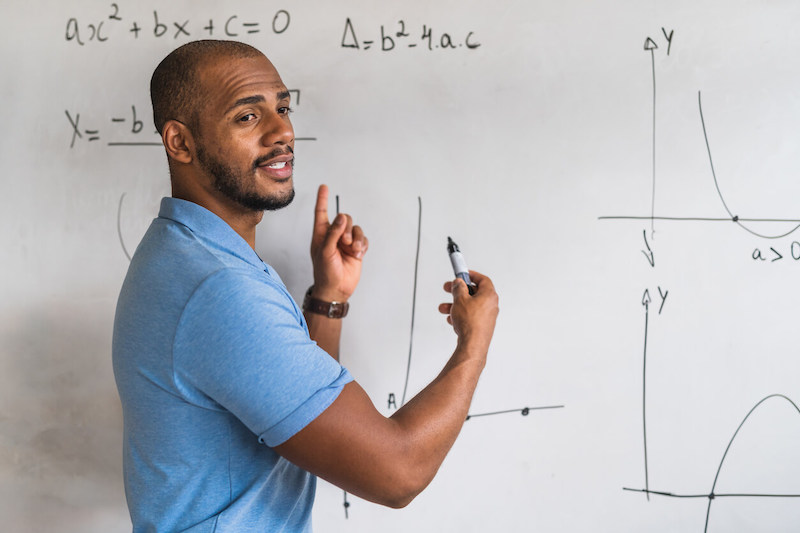 A math teacher is a professional educator who specializes in teaching mathematics concepts and principles to students of all ages and abilities, at the elementary, middle, high school, or college level.
They use a variety of approaches, from hands-on activities to problem-solving to ensure that each student develops an understanding of key math topics. Math teachers help their students develop critical thinking, independence, and problem-solving skills, which are essential for success in higher education and the workplace.
Math teachers help students understand mathematical concepts and apply them to real-world situations. Math teachers work in a variety of settings, including public and private schools, colleges, and universities.
A good math teacher must also be prepared to accommodate various learning styles and levels of comprehension among their students. Above all else, a math teacher must foster an atmosphere in the classroom conducive to learning; they must present the material in such a way that encourages active student participation and promotes critical thinking.
Whether through interactive educational games or developing study guides to help students grasp difficult concepts, math teachers have the important job of teaching one of the most fundamental topics we need in everyday life.
Math teachers plan and delivering lessons that align with state and national curriculum standards, and for assessing student progress to ensure that students are mastering the material. They also work with students who are struggling with math, providing extra support and resources to help them succeed.
Math Teacher Career Outlook and Salary
Career Outlook
Becoming a math teacher is one of the most rewarding careers one can choose. Math teachers improve their student's ability to understand, think critically, and solve problems, setting them up for success in college and beyond. For those seeking job security and career advancement possibilities, then being a math teacher could be the right profession for you.
According to the Bureau of Labor Statistics (BLS), employment of high school teachers, including Math Teachers, is projected to grow 4% from 2019 to 2029. This growth is expected to be driven by an increasing student population, the need for highly qualified math teachers, and a need to replace retiring teachers. The demand for math teachers is expected to increase as the emphasis on STEM education continues to grow. However, the demand may vary depending on the region and school district. If you love teaching, have an aptitude for problem-solving, and possess a sincere enthusiasm for your subject, then math teaching is an excellent choice. With great job stability, growth opportunities, and satisfying results from your work with youth, it's certainly worth considering as a rewarding career path.
Salary Expectations
Salary expectations for math teachers vary depending on the grade level taught, location, experience, and level of education. For example, math teachers in urban areas may earn more than those in rural areas. Beginner math teachers who are just out of college can expect to earn somewhere near $30,000 – $40,000 per year. With years of experience and/or additional certification or master's level coursework, teachers can look forward to wages that increase with their skill set.
According to the Bureau of Labor Statistics, the median annual salary for high school teachers, including math teachers, is $62,870. The top 10% of high school teachers earn more than $98,500 per year.
How to Become a Math Teacher

Becoming a math teacher is an incredibly rewarding profession that can make a big difference in the lives of students. It can help to ensure they gain the knowledge and skills they need to be successful throughout their entire lives. Below, we discuss the steps on how to become a math teacher.
The first step to becoming a math teacher is to earn a four-year bachelor's degree in mathematics or a related field, such as education with a math concentration, statistics or engineering from an accredited university or college.
Most states require math teachers to have at least a bachelor's degree in mathematics or a related field, while others also require a degree in education or to complete an education program. It is important to check with your local school or district for specific requirements.
2. Complete a teacher preparation program
After earning a bachelor's degree, most states require prospective Math Teachers to complete a teacher preparation program, which may include coursework in education, teaching methods, student teaching or a supervised teaching experience, and other classroom experience. This program provides you with the knowledge and skills you need to be a successful teacher.
3. Pass a certification exam
Many states require Math Teachers to pass the Praxis II math content certification exam and other certification exams to be licensed to teach. This exam will test your knowledge of mathematics and your ability to teach it.
4. Meet any other state-specific requirements
Some states require teachers to fulfill additional requirements, including fingerprinting and passing background checks.
5. Get a state teaching license
Most states require Math Teachers to get a teaching license from the state's Department of Education to teach. The requirements for licensure vary by state, but typically include completing a teacher preparation program and passing a certification exam.
6. Get a teaching job
Once you have completed your education, passed your teaching exam, and got all the necessary credentials, you can start looking for a teaching job at public and private schools, colleges, and universities. Many states require new teachers to complete a period of probationary teaching before becoming fully certified teachers.
Day in the Life of a Math Teacher
Each day brings unique opportunities to make a positive difference in students' lives, helping them become more confident and capable mathematicians with vivid imaginations and strong problem-solving skills. A typical day in the life of a math teacher is often busy and challenging and might include:
Planning and preparing lessons that align with state and national curriculum standards by creating lesson plans, reviewing materials, and preparing assessments
Delivering instruction to students in a variety of settings, including whole-class instruction, small-group instruction, and one-on-one instruction on the basics of fractions or geometry
Creating and grading assignments
Creating engaging activities to explore new math concepts by playing games, solving puzzles, or using hands-on exploration tools like tangrams or geoblocks
Grading papers
Assessing student progress by reviewing homework and giving quizzes and tests and providing feedback to students and their families.
Collaborating with other teachers and school staff to ensure that students are receiving a well-rounded education
Taking part in parent-teacher conferences and other meetings with parents and school staff.
Providing extra help and support to students who are struggling with math by providing resources, and one-on-one tutoring.
Taking part in professional development opportunities to stay current on the latest teaching strategies and curriculum changes
Besides the academic requirements for becoming a math teacher, you should also have strong interpersonal skills to communicate effectively with students and parents. You should also be able to think creatively and come up with creative solutions to help students learn and understand math concepts. It is also important to be patient and understanding with your students. Math can be difficult for some students, so you should be able to encourage them and provide them with the tools they need to succeed.
Licensure, Certifications, and Continuing Education
Becoming a math teacher requires more than simply having a passion for teaching and understanding of mathematics. Licensure, certifications, and continuing education are important components of being a Math Teacher. Many states require Math Teachers to hold a valid teaching license to teach and to renew their license every few years through continuing education or professional development activities.
Licensure enables educators to prove their knowledge and competence in the subject they plan on teaching. Certification is an additional avenue to show proof of being able to teach mathematics effectively and creatively. Continuing Ed and professional development opportunities can help teachers stay current and refreshed on the standards, latest teaching strategies and curriculum changes. They can also help teachers advance their careers by requiring them to attend workshops, conferences, or seminars annually.
For anyone wishing to become a math teacher in today's educational climate, it is important that they strive to achieve all applicable licensures, certifications and continuing ed requirements if they wish to be successful in the profession.
Some math teachers may choose to earn additional certifications, such as National Board Certification, to show their expertise in the field.
Conclusion
Math teachers are in high demand. With a positive career outlook, competitive salary, and the ability to make a difference in the lives of students, becoming a math teacher is a great choice.
If you are passionate about mathematics, have the desire to share your knowledge with others, and enjoy working with young people and helping others understand complex concepts, then this may be the perfect fit for you. By following the steps on how to become a math teacher, you can become a certified and begin helping your students develop their mathematics skills and knowledge.
With the right education, certification, and qualifications, you can start your career as a math teacher.