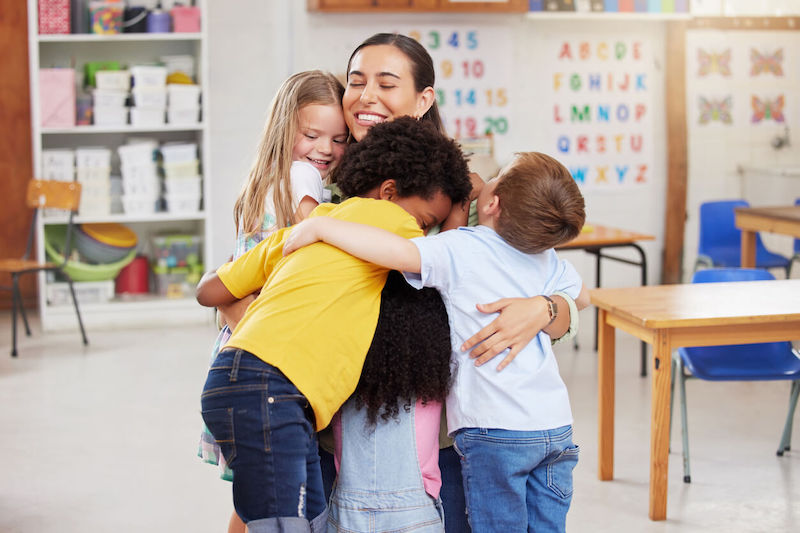 Teaching is an important career due to the impact you have on young lives. In fact, we've all had a teacher that we remember fondly. It might have been a teacher who inspired you to want to be a teacher or just one that really made learning fun. Whatever the reason, teachers play an important role in the lives of children. Many teachers do much more than just teach a subject.
They care for children while also nurturing them and developing good relationships. Does the idea of playing an important part in shaping a young mind appeal to you? If so, you might find a career in teaching to be very rewarding. Read on to learn how to become a teacher and what you can expect with a career in teaching.
What is a Teacher?
A teacher is a trained professional who educates students of various ages and on various topics. The type of education a teacher provides depends both on the grade level and the subject he or she chooses to teach. Teachers are a special group of people who have chosen a career where they can play an important role in a child's life and inspire their minds.
What children know as an adult is often the result of what they've been taught throughout their school years. Whether a teacher is helping a young student put together an art project, teaching them how to sing, or teaching them how to solve math problems, they are a professional we would not be able to do without.
A teacher may choose to teach all subjects to a kindergarten class or may teach biology to high school students. Regardless of what grade or subject they choose to teach, they're a very important part of a child's life because they can change lives.
Career Outlook for Teachers

As of May 2021, about 1.4 million teaching jobs were held by kindergarten and elementary school teachers. There were about 606,500 held by middle school teachers, and about 1.1 million held by high school teachers according to the U.S. Bureau of Labor Statistics (BLS). Of this large number, about 85 percent worked in public schools.
The employment of teachers is expected to grow at about the same pace as all other occupations. The BLS projects that kindergarten, elementary school, middle school, and special education teachers should see job growth of four percent between 2021 and 2031. High school teachers could see a job growth of five percent during the same period.
Unfortunately, the employment of teachers is often dependent on state budgets. Qualified teachers have always been in demand, and they continue to be very much in demand. Yet, there continues to be a shortage of good teachers in the U.S.
About 60,200 new kindergarten and elementary teacher jobs should be created by 2031. Approximately 25,000 new middle school teacher jobs should be created by 2031 with 48,700 high school teaching jobs being created by 2031. This report comes from the BLS.
Teacher Salaries
Although the wages earned by teachers may be considered good by many, it's still often been said that teachers are underpaid and overworked when you consider what they do and what they have to deal with throughout their day. Here are the average annual wages for teachers as of a May 2021 BLS report.
Kindergarten and elementary school teachers – $61,400 with wages ranging from $43,950 to $99,420
Middle school teachers – $61,320 with wages ranging from $45,510 to $99,470
High school teachers – $61,820 with wages ranging from $46,090 to $100,310
Special education teachers – $61,820 with wages ranging from $46,180 to $100,040
Teacher wages can be affected by various factors, such as degree level, number of certifications, years of teaching experience, and location of the school district. Teachers with a master's degree and several certifications generally earn more money because their credentials make them more valuable to the school.
Here are the top-five paying states for kindergarten and elementary school teachers followed by the five lowest-paying states.
Highest-paying states for kindergarten and elementary teachers
New York – $87,700
California – $86,470
Massachusetts – $83,790
Washington – $83,010
Connecticut $82,140
Lowest-paying states for kindergarten and elementary teachers
Arizona and South Dakota – $47,960
Mississippi – $47,280
Arkansas – $48,090
North Carolina – $48,130
Oklahoma – $48,150
Here are the top-paying states for middle school teachers followed by the five lowest-paying states.
Highest-paying states for middle school teachers
New Jersey – $74,390
Georgia _ $64,460
Maine – $59,760
Alabama – $54,870
West Virginia – $50,190
Lowest-paying states for middle school teachers
West Virginia – $47,910
North Carolina – $48,220
South Carolina – $48,040
Arizona – $48,090
Oklahoma – $48,210
Here are the top-paying states for high school teachers followed by the five lowest-paying states.
Highest-paying states for high school teachers
New York – $87,240
California – $85,080
Massachusetts – $81,070
Connecticut – $78,540
New Jersey – $78,090
Lowest-paying states for high school teachers
South Dakota – $44,520
Oklahoma – $45,060
Missouri – $45,250
Mississippi – $45,680
West Virginian – $46,880
How to Become a Teacher: Step by Step
Becoming a teacher can be a big decision and one you won't want to take lightly. Whether you've chosen to teach because you enjoy educating children or because you had a great teacher who inspired you, it's important to know exactly what you want as well as how to become a teacher. Here are some important steps you'll want to follow to learn how to become a teacher.
Choose a Teaching Path
Teaching is not as simple as one might think. Do you want to teach young kindergarten students, or do you prefer children a little older? Perhaps you have a good rapport with teenagers and would like to educate high school students. Deciding what grades you want to teach is a big step.
Second, are you fascinated with math? Do you consider yourself a history buff or perhaps have a love of science? It's important that you decide what subjects you want to teach before you choose your degree. If you're steering towards becoming a kindergarten teacher, you may not have to specialize in just one subject. The first step towards becoming a teacher is choosing the grades and/or subjects you want to teach.
Get Your Bachelor's Degree
In almost all the states, if not all, teachers must have at least a bachelor's degree that includes a teacher preparation program. They must also be licensed and cannot be licensed without a bachelor's degree. Your major may be in education or teaching. States may vary in their educational requirements.
Some states require students to choose a subject matter as well, such as science, math, or art to name a couple. When choosing a bachelor's degree program, make sure the school is accredited, particularly by an agency like the Council for the Accreditation of Educator Preparation (CAEP). Additionally, choose a program that has a highly-rated teacher preparation program.
Student Teaching
As much as you'll learn from your bachelor's degree program, and you will learn a lot, you'll learn almost just as much by student teaching. It's important to participate in some student teaching because you'll get hands-on training running a classroom and educating students. However, you'll get it under the supervision of a licensed teacher. Student teaching is also a required part of becoming a teacher. Many bachelor's degree teaching programs require the student to spend at least one semester student teaching.
Get Certified
Certification leads to licensure, and licensure is required in all the states by any teacher wishing to teach in a public school. When taking the certification exam, make sure you take the exam that corresponds with the state in which you want to teach, the grade level you want to teach, and the subject matter you want to teach. Some teachers begin teaching with the bare minimum certification and later obtain additional certifications so they can teach in other areas.
Some states have an alternative way for aspiring teachers to obtain certification and licensure if the candidate already has a bachelor's degree but has not taken the courses required for teacher certification. The candidate may be allowed to teach under the supervision of a licensed teacher. Once the student teacher has completed the program, he or she can take the certification exam to get licensure. More information on teaching programs can be found at teach.org.
Day in the Life of a Teacher
If there is one thing that can be said about teachers and a day in the life of a teacher, it's that they are always busy doing something for a student or their classroom. In most areas, teachers work nine to ten months of the year and have the summer months off. This may sound like an ideal occupation to have two to three months off in the summer. However, although they may not be in the classroom, they are still spending a lot of their off time thinking of school and planning things.
Some teachers use their off time to complete their continuing education courses, while others may be taking online classes to earn a master's degree. The early part of the summer is often spent grading papers and cleaning out the classroom and preparing it for the next school year.
The latter part of the summer is typically spent creating lessons and also preparing the classroom for the new school year. They also have an orientation session where they get to meet their new students and the student's parents.
When they are in school, they're working with students and helping them learn new things and remember new things. A kindergarten teacher spends the day helping the students learn new things. Middle school teachers help students build on the knowledge from elementary school while also preparing them for high school.
High school teachers also help the students build on what they learned in middle school while helping them prepare for college and/or adulthood. The teachers' routine has them so busy that they often are required to take things home with them and work on them on their time. Their daily duties include:
Creating lesson plans for that day or the following day. These may be for individual students or the entire classroom.
Evaluating and observing the students to learn their weaknesses, strengths, and abilities
Teaching the lessons to the students
Developing classroom rules, explaining them to students, and ensuring they're being followed
Grading daily assignments and tests
Working one-on-one with students facing challenges or those with special needs
Communicating with parents regarding the student's progress
Helping students prepare for state-required standardized tests
Supervising the students when they're at lunch, recess, detention, or just out of the classroom
Meeting with other teachers and staff to discuss students' progress or classroom needs.
A teacher may not have a class every hour of the school day. This free time may be used to grade papers, prepare assignments, or meet with other teachers. Some teachers may be English as a second language teachers. These teachers spend a great portion of their day working with groups or individuals to help them learn the English language.
Some teachers may also choose to work as special education teachers. These teachers work with the regular teachers to create daily lessons or may even co-teach with the regular teachers. With the addition of technology, teachers often use messaging boards or text messages to communicate with teachers regarding any issues with their children. Teachers at the middle and high school levels often help others regarding after-school activities or sporting events.
Licensure, Certifications, and Continuing Education
When we think of this profession, we think of teachers doing the teaching and students doing the learning. While this may be true, teachers are also learning. They never stop learning new things. Before they can work as a teacher, they must obtain certification and licensure for the state in which they wish to teach. Being re-certified requires completing continuing education courses.
Requirements for licensure and/or certification vary from state to state. An individual interested in teaching kindergarten and elementary-age children is required to be certified or licensed in the grade level he or she wants to teach.
Someone who wants to teach middle school or high school students is also required to be certified in the grade he or she wants to teach. However, in many states, these teachers are also required to be certified in specific subjects, such as math or science. Certification requirements are different from state to state, but most have these requirements.
They must have a bachelor's degree in teaching.
They must have maintained a specific GPA.
They must complete a student teaching program.
They must pass a criminal background check.
They must pass the state certification exam.
They must pass a test demonstrating their knowledge of the subject (math, science, etc.) they want to teach.
The teacher must also maintain certification if they wish to continue teaching. Again, these requirements may vary by state. Teachers are typically required to take professional development courses to maintain their certification. Depending on the state, the teacher may also be required to earn a master's degree after they've become certified and are working as a teacher.
Teacher Certification by State
Teacher certification websites can be hard to find and also hard to determine where the teacher certification information is. We've compiled direct links to each state's certification information to make things easier for you.
The program teaches the student-teacher about child development and teaching methods. Once the individual completes the program, he or she can take the certification exam. Teachers working in private schools do not have the same licensing requirements as one working in a public school. Aspiring teachers can get additional information on certification and licensure requirements at teach.org and the U.S. Department of Education.
Check out all our different articles on how to become a teacher:
How to Become a High School Teacher
How to Become an ESL Teacher
How to Become a History Teacher
How to Become a Kindergarten Teacher
How to Become a Science Teacher
And for more information about getting into teaching as a career:
How Long Does it Take to Become a Teacher?
How to Become a Substitute Teacher