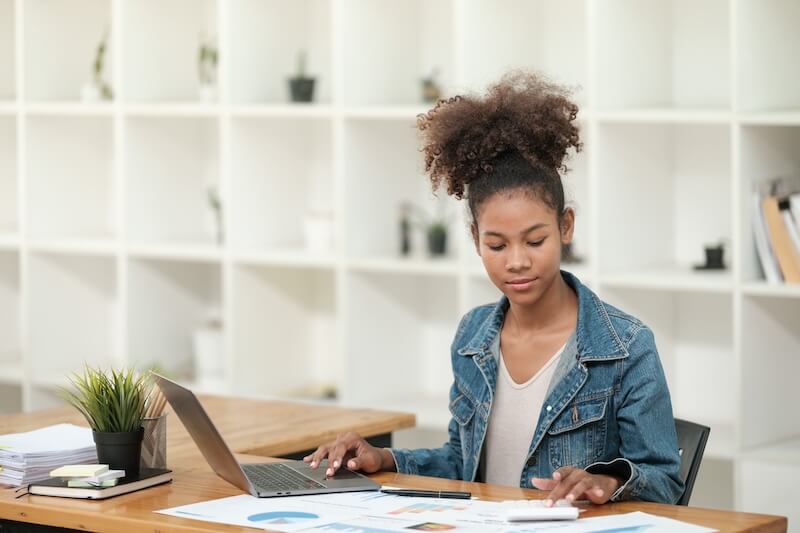 Are you reaching college age and wondering what type of major you should choose? Or are you looking for a second or third career and wondering about your options? Does the idea of working with money appeal to you? Have you considered something in the finance field? Is finance a good major is probably your first question. You would be surprised at how much the field of finance has to offer and what an interesting career it can be.
What is Finance?

When we hear or see the word finance, we all think of different things. Financing a vehicle might come to mind for one person, while another might think of finance terms. When others think of finance, what comes to mind is money and investments. That's mostly what finance is all about.
It's a word used to describe situations involving the creation, study, and management of both money and investments. This might be debts and credit, stocks, and bonds, or investing in a specific project with the hopes of a long-term gain. Finance is also used when discussing interest rates, monetary time value, and similar topics. While there are many types of finance, the main categories are:
Personal finance – This includes personal financial activities and decisions of a household or individual, such as budgeting, savings, checking, mortgage planning, insurance, and even planning for retirement.
Public finance – This involves tax systems, stabilization policies, debt issues budget procedures, and similar government-related issues.
Corporate finance – This involves the management of liabilities, assets, debts, and revenues related to a business.
Finance is not only a term used regarding monetary transactions. It is also a major that many students are choosing to reach their career goals. Finance degrees are offered at many colleges and universities. They're offered at the associate, bachelor, master's, and doctoral degree levels. Many finance degrees are offered as online programs as well.
Online finance degrees are very popular because almost all, if not all, the courses can be taken online. Students interested in finance might find an entry-level job in a financial institution and earn a finance degree at the same time. This gives them the opportunity to take what they're learning and implement it while on the job.
Since the Covid-19 pandemic, the country's finances, as well as our own, have been topsy turvy at best. One day things are looking up, and the next day they're looking down. Many people are in search of financial experts to help keep them solvent and financially stable. This is one of the main reasons why a finance degree can be so beneficial and in demand today.
How Much Do Finance Majors Make?
Once you've decided you may be interested in a degree in finance, the first question you'll probably have is how much finance majors make. Just as there are so many career opportunities with a finance major, there are also so many answers to this question because of the many jobs available to finance majors. Here are some potential jobs and average annual wages as reported by the U.S. Bureau of Labor Statistics (BLS) in 2021.
| | |
| --- | --- |
| Job Title | Average Annual Salary |
| Accountants and Auditors | $77,250 |
| Budget Analysts | $79,940 |
| Financial Analysts | $95,570 |
| Financial Examiners | $81,410 |
| Human Resources Specialist | $62,290 |
| Insurance Underwriter | $76,390 |
| Labor Relations Specialist | $77,010 |
| Loan Officers | $63,380 |
| Management Analysts | $93,000 |
| Personal Financial Advisor | $94,170 |
| Project Management Specialist | $94,500 |
| Financial Manager | $131,710 |
| Human Resources Manager | $126,230 |
Why Choose Finance vs. Accounting?
When we think about a career in finance, a career in accounting often comes to mind. After all, both careers involve money and working with money of one sort or another. They both offer good job growth and good wages. You're probably wondering what the difference is between the two majors and why one would be a better choice than the other. The first difference is in the coursework of the two programs.
Accounting Major
May have courses like forensic accounting, auditing, business strategy, financial reporting, tax accounting, risk management, management accounting, budget analysis, international accounting, macro/microeconomics, professional standards and ethics, and information systems.
Finance Major
May have courses like financial management, asset markets, economics/econometrics, financial mathematics, corporate finance, behavioral finance, advanced derivatives, venture capital, private equity, financial planning, financial management, financial accounting, financial reporting, and financial markets.
There are other differences between the two majors as well as reasons why many may choose the finance major over the accounting major. Some students choose a joint finance and accounting degree to get a general knowledge of both the finance and accounting professions.
If they then choose to advance their studies, they'll typically specialize in either accounting or finance to learn more about one field or the other. Accounting deals with the daily management of financial records and reports in the business world. Finance also deals with this information, but it also uses that information to strategize a company's finances by assessing expenditures and projecting future growth for the company.
Put in a simpler form, accounting professionals will use accounting principles and practices to manage numbers, while finance professionals will use financial controls and strategies to influence the numbers.
Another difference between the two, and this difference is often a deal-breaker, is that there is a substantial difference in what you can do with the two degrees. An accounting degree is great, but it also has a narrow focus in terms of jobs available. There may be a lot of accounting jobs available, but most of them are focused solely on accounting.
Finance, on the other hand, offers a variety of concentrations and specializations in the world of economics, business, and banking. There are just so many job and career possibilities with a finance major. It all boils down to what an individual wishes to do in their career.
Jobs You Can Hold with a Finance Degree
Earning a degree in finance can open all sorts of job opportunities. The type and level of job you get will depend a lot on the degree you have. An associate degree in finance will probably not qualify you for a job as a bank president, and a master's degree is higher than you'd need to be a cashier.
However, there are many jobs to be found in the finance industry because this field is large and widely spread out. Below are just some of the many jobs possible with different finance degrees.
Associate Degree-Level Finance Jobs
Financial clerk
Insurance sales agent
Medical billing specialist
Accounting clerk
Associate financial advisor
Computing business coordinator
Bookkeeper
Administrative assistant
Customer service manager
Business services representative
Loan officer
Account resolution specialist
Bachelor's Degree-Level Finance Jobs
Financial analyst
Financial manager
Budget analyst
Purchasing manager
Financial planner
Credit analyst
Investor relations specialist
Accountant
Financial examiner
Actuary
Master's Degree-Level Finance Jobs
Investment banker
Financial software developer
Chief financial officer
Private equity associate
Chief compliance officer
Information technology auditor
Hedge fund manager
Financial analyst
Insurance advisor
Actuary
Accountant
Another interesting fact about a finance major and the potential jobs is that many that are available with a bachelor's degree may also be available to an individual with an associate degree if the person has some experience in that area. Many people working in finance with a lower degree advance their education through online degree programs.
This allows them to continue at their job while earning a higher-level degree. In a situation where a finance degree requires a supervised internship, this can often be easily accomplished because the student is already employed in a financial setting.
Is Finance a Good Major? Is a Finance Degree Worth It?
If you're asking the question is finance a good major, the answer is yes. It's a good major both in terms of career growth and compensation. The BLS states that jobs in business and finance occupations are expected to increase seven percent during the decade of 2021-2031. This projected growth is about as fast as all other occupations.
This predicted growth should also bring more than 715,000 new jobs during the period. The bureau also reports that the average annual wage for these employees was $76,570 in 2021. This amount is substantially higher than the average wage for all other occupations. However, factors like experience, degree, employer, and location can all play a part in wage potential. There are many benefits to earning a finance degree.
Good career growth
Good wages
Developing in-demand skills
Employment with various employers
Employment possible in various industries
Putting yourself in a position for a rewarding career financially
Preparing yourself for several industry certifications
Being part of an industry that's predicted to have stable growth
Pursuing a finance degree can be a big step but one that comes with many benefits. But is it the degree for you? Will it be a good fit for your career goals and interests?
Ask yourself these questions:
Do you have good communication skills?
Do you have an analytical mind?
Are you really organized?
Are you good with numbers?
Are you a problem solver?
Next Steps
If you've answered yes to most of these questions, a finance degree might be the ideal choice for your career and future. Inquire today with a few different programs to find one that is the best fit.