How to Become a Therapist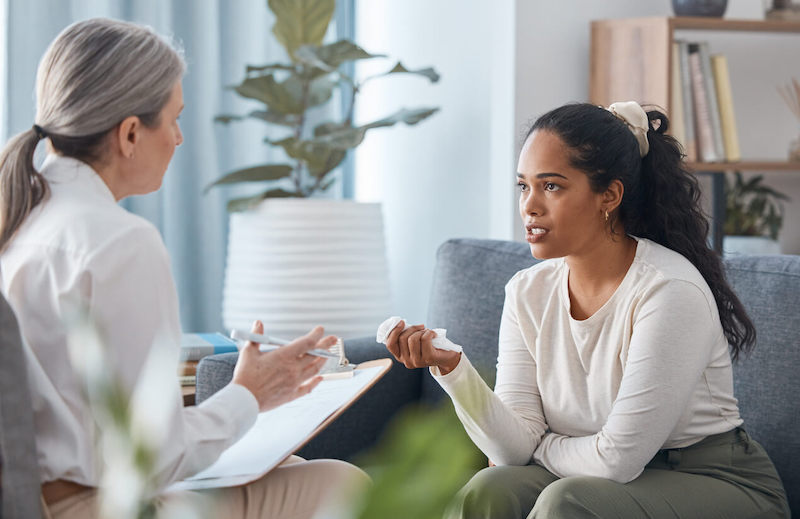 When we hear the word therapist, what typically comes to mind is a trained individual who helps others through talking with them, listening to them, and counseling them on ways to improve their lives. There are many types of therapists, and they all have the same goal: helping others. Every day, we hear more and more about mental health problems and the increasing need for more mental health professionals. Wondering how to become a therapist? Does the idea of being able to help troubled individuals interest you? If so, read on and learn how to become a therapist and what the career might entail.
What is a Therapist?
The word therapist can have different meanings because there are different types of therapists. You have occupational therapists, physical therapists, respiratory therapists, marriage and family therapists, and substance abuse, behavioral disorder, and mental health therapist or counselor. Each of these provides a different type of service.
The type of therapist we will focus on here are substance abuse, behavior disorders, and mental health counselors, and marriage and family therapists. A therapist is a highly educated and trained licensed professional who is committed to helping individuals, couples, and groups who are suffering from some issue or disorder.
Working as a therapist can be very rewarding because you're helping others live better and happier lives. What could be more gratifying than knowing your help and service made a difference in the lives of others? An individual interested in becoming a therapist typically has several options from which to choose.
Types of Mental Health Therapists
Marriage and family therapist
Psychotherapist
Applied behavioral analyst
Child therapist
Cognitive behavioral therapist
Substance abuse, behavioral disorders, and mental health counselors
Recreational therapist
Therapist Career Outlook
Whether you choose to become a marriage and family therapist or a substance abuse, behavioral disorder, or mental health counselor, you can expect a good career outlook according to the U.S. Bureau of Labor Statistics (BLS). Marriage and family therapists are predicted to see a job growth of 14 percent between 2021 and 2031. Approximately, 9,100 new jobs should be created for this profession by 2031.
The need for marriage and family therapists will continue to increase as more people are choosing to seek outside help for their problems. Because many family problems are often linked with substance abuse, marriage, and family therapists often work with substance abuse, behavioral disorder, and mental health counselors. The National Alliance on Mental Illness states that mental health disorders affect millions of people every year, which increases the need for qualified and licensed therapists.
Substance abuse, behavioral disorder, and mental health counselors could see job growth of 22 percent during that same period. Around 77,500 new jobs should be created for these professionals by 2031. As more and more people seek help for addiction and behavioral problems, these therapists should be very much in demand.
The potential job growth for both careers is higher than that of most other occupations.
The states where the highest number of marriage and family therapists are employed are:
California – 25,870
New Jersey – 4,120
Illinois – 2,540
Minnesota – 2,310
Florida – 2,240
The highest number of employed substance abuse, behavioral disorder, and mental health counselors are in these states:
California – 34,820
New York – 20010
Pennsylvania – 18,240
Massachusetts – 17,020
Texas – 16,970
Therapist Salary
The salaries earned by therapist professionals can vary because different factors go into determining the wages. The geographic location or city where the therapist works plays a big part in wage opportunities. Below are the states where marriage and family therapists earned the highest wages followed by the states where substance abuse, behavioral disorder, and mental health counselors earned the highest wages as of May 2021.
Top MFT Salaries by State
Utah – $86,490
New Jersey – $81,330
Colorado – $73,040
Minnesota – $68,660
Nevada – $66,600
Top Substance Abuse and other Therapist Salaries by State
Utah – $66,190
Alaska – $65,090
District of Columbia -$64,920
Rhode Island – $64,640
New Jersey – $63,430
Other factors can determine the wage possibilities for these therapists. Although many therapists are required to have a master's or doctoral degree as well as licensure/certification, they may choose to obtain additional certifications, which can boost their earning potential. Years of work experience and title can also affect wages.
How to Become a Therapist
Becoming a therapist requires completing several steps.
Earning a bachelor's degree
Earning a master's degree
Earning a doctoral degree
Completing an internship
Obtaining certification and/or licensure
Continuing education credits
1. Earn a Bachelor's Degree
Earning a bachelor's degree in psychology is the ideal first step toward becoming a therapist. However, the undergraduate degree can be in another major since the graduate degree will be aimed at an aspiring therapist. The bachelor's degree generally takes four years to complete.
2. Earn a Master's Degree
To become a therapist, you must have a master's degree in marriage and family therapy, psychology, or a similar mental health field. The focus of this degree program is to teach students not just about how relationships and families work as a group but also how they can be affected by emotional, mental, and behavioral disorders. It typically takes from two to three years to complete the master's degree.
When choosing a graduate program, it's important to choose a program that's accredited by a reputable agency such as the American Psychological Association or the Council for the Accreditation of Counseling and Related Educational Programs (CACREP). There are currently more than 850 accredited programs for aspiring therapists.
3. Complete Clinical Hours
In addition to earning the degree, the candidate must complete a supervised clinical internship that must include a specific number of hours of postgraduate work experience. This must be completed under the supervision of a licensed therapist. These requirements must be completed before the individual can become licensed as a therapist.
Although the master's degree is required to work as a licensed therapist, some types of therapists and counselors must also have a doctoral degree. For example, licensed counselors and therapists working with children or in clinical settings must have the doctorate. Many master's and doctoral degree therapy programs are offered online.
Some candidates take as many online courses as possible so they can also complete their clinical hours at the same time. Becoming a licensed therapist requires a lot of education and commitment.
In addition to earning specific degrees and certifications, aspiring therapists should also possess other qualities.
Listening skills – A large part of a therapist's day is spent listening to patients and clients, so it's vital that they can listen well.
Organizational skills – Therapists working in private practice must be organized as they have to deal with insurance companies and associates as well as keep track of bills and payments.
Compassion – Therapists are usually working with clients who are dealing with difficult and stressful situations and need as much compassion as possible.
Communication skills – All types of therapists must possess good communication because they'll be speaking with clients and their family members.
Interpersonal skills – Therapists work with various people throughout their workday and must be able to communicate well with them and maintain a good working relationship.
Therapists may also be required to be certified in CPR and basic life support.
Day in the Life
If there is one thing that can be said about the workday of a licensed therapist it's that the day is busy and often different from day to day. They spend a lot of time working with patients or clients. A lot of what their day consists of is the type of therapy they provide and the individual patient. They do spend a lot of time talking to patients and encouraging them to talk about their experiences and thoughts.
Therapists help patients process their thoughts and adapt to any changes they may be experiencing in their lives. Additionally, they help the clients make important life decisions. Rather than making the decisions for the client, they help them come to the correct decisions based on their lives.
They also assist the client in developing skills and strategies to cope with difficulties and change their behaviors accordingly. Therapists also refer their clients to other resources in the area, such as inpatient/outpatient treatment facilities or support groups. If a client is suffering from negative, harmful, or destructive thoughts, the therapist uses various tools and techniques to replace the thoughts with positive thoughts.
Cognitive behavioral therapy is a popular therapy technique. Some therapists work in hospitals or clinics while others may work in private practice. They work with families, individuals, and couples. They address the issues causing the problems whether it's substance abuse, stress, family issues, or low self-esteem.
Although therapies are similar in nature, the specific type of therapy used generally depends on the kind of therapist and the client. A couple having marital difficulties will have different therapy than a child. Often, a therapist will consult with other medical personnel to determine the best type of therapy.
Licensure, Certifications, and Continuing Education
Therapists such as marriage and family therapists must be licensed in all states to work as therapists. The requirements apply to therapists like substance abuse, behavioral disorder, and mental health counselors. Before an individual can become licensed, he or she must complete the required number of hours of supervised clinical experiences, which can vary by the type of therapist and the state.
Clinical Hours
For instance, most clinical counselors are required to complete anywhere from 2,000 to 3000 hours according to the American Counseling Association. Upon completion of these hours, the candidate must pass the National Counselor Examination, which is offered through the National Board for Certified Counselors.
Exams
This exam, which consists of 200 multiple-choice questions, is required in most states. Further information on the exam can be obtained through the National Counseling Association. Before taking the exam, the applicant must show proof that they've completed the educational and internship requirements.
The exam that's required for therapists like substance abuse, behavioral disorder, and mental health counselors is administered by the National Board for Certified Counselors. Individuals can get the information they need by contacting their state licensing board. The learning and testing do not end with the license.
Continuing Education
Therapists must maintain their certification and licensure by completing continuing education credits. Failure to do this in the required time can result in the therapist losing his or her license. When completing the examination, it's important that the individual get information regarding recertification requirements.
Getting Started
 Whether you are right at the beginning of your educational journey or you are looking for a graduate degree, you are in the right place. Get information from a few schools so you can compare the programs and get started today.