The Best and Cheapest Renters Insurance in Arizona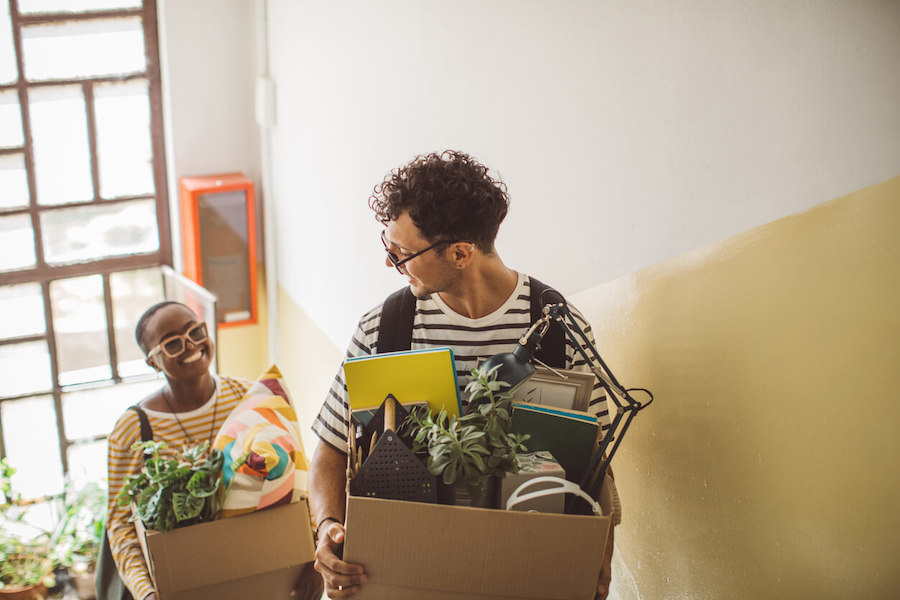 No doubt, heading off to college is an exciting time. For many students, it's their first time living outside of their parent's household. Relocating your home isn't easy, especially if you're moving from out of state. While packing, you're likely focused on getting all your clothes, electronics, school supplies, and essential other belongings into your new space. One item students and their parents tend to overlook is renter's
insurance.
If you're leasing an apartment off-campus, the first thing you should do is obtain renter's insurance before you settle in. College students often think they don't have anything valuable to steal, but what would happen if your laptop, textbook, and other necessities were damaged or stolen?
In Tucson, Arizona, there were over 2,000 burglaries in 2020, while in Phoenix, there were about 7,406 property crimes reported in 2020. College parties are also a prime opportunity for theft and property damage. Renters' insurance ensures the protection of your belongings in these unfortunate events.
Do All College Students Need Renters Insurance?
Their parent's homeowner's insurance might cover students living in college apartments and dorms. Often, homeowner insurance policies extend 10% of their coverage to students away at college. A dormitory insurance policy usually covers students living on the school-owned property. Taking out additional insurance offers increased protection.
If you're living off-campus, renters insurance is imperative. Nowadays, many landlords require renters to have insurance that will cover their belongings in an unforeseen occurrence.
How Does Renters Insurance Work?
As the name implies, renter's insurance is ideal for anyone renting an apartment, condo, or townhouse. A common misconception is that the landlord or the property owner is responsible for reimbursing you for the damage or the theft of your belongings and personal property. If your items are stolen or damaged in a fire or storm, it's up to you to resolve the problem.
Rental insurance is an excellent deal for the protection you'll get in a basic policy:
Covers the loss or damage of your personal property. In the event of a burglary, a fire, smoke, or a storm, the insurance company will reimburse you for the cost of your personal belongings such as your clothing, furniture, electronics, and home appliances.
Liability – Renter's insurance also protects policyholders from legal claims or lawsuits that stem from an accident occurring on your rental property. If visitors injure themselves while visiting and decide to sue, the renter's insurance will cover the expenses.
Relocation expenses – If your rental property becomes inhabitable for a covered event, the insurer will pay for temporary relocation costs. If you lost your apartment in a fire, your renter's insurance would cover the cost of your hotel stay and any additional expenses you incur, such as fast-food meals.
How Much Does Renters Insurance Cost?
Believe it or not, renters insurance doesn't cost an "arm and a leg." A basic policy is so affordable that even a college student on a budget can pay the low monthly premium. For instance, a 20-year-old male student living in Phoenix, Arizona, can expect to pay about $270 a year or $23 a month for a policy that includes $60,000 in personal property coverage.
Here's a look at monthly premiums for the same student in different cities in Arizona, so you can see how premiums differ based on location. As you can see, the bigger the city, the more likely something will happen, so premiums are usually higher as a result.
City Premium Cost Per Month
Phoenix $23.50
Flagstaff $11.34
Tucson $21.00
Yuma $12.59
Tempe $13.84
Prescott $9.17
Top Cheapest Insurance Companies in Arizona
Many students in Arizona are living on a small budget. Therefore, they can't afford to pay high premiums. Our team generated quotes from the top insurers using a Tempe zip code as a variable to determine which insurance company was the most affordable. Here is what we found:
1. USAA
USAA provides the most comprehensive coverage for the cheapest price, starting at $5 a month or $60 a year for full coverage. Since USAA includes flood and earthquake coverage as part of its standard policy, it has an advantage over other insurers. The provider also covers moving and storage costs as well as replacement costs. The only downside is that only active military men, retired service members, and a select few of their family members are eligible to obtain renters insurance through USAA.
In addition to great rates, USAA has good customer satisfaction ratings. When it comes to customer satisfaction, affordability, and financial stability, the United Services Automobile Association receives a 5/5 rating.
2. Safeco
At $8.83 a month, Safeco has one of the most affordable standard renters insurance policies that's ideal for college students in Arizona. They provide comprehensive personal property, liability, and temporary loss coverage.
Although Safeco is the cheapest provider, they have a large number of customer complaints regarding the quality of their customer service. As a result, they scored 3.5 out of 5
3. Allstate
Allstate is one of the largest insurance providers in the United States. For a student living in Tempe, Arizona, basic renters insurance coverage only costs $12 a month, and that's with the $5 discount applied for customers that select automatic monthly withdrawals. Allstate's most basic policy offers up to 15,000 and $100,000 for liability coverage. However, you'll have to pay a $500 deductible.
There are several opportunities for discounts with Allstate. Customers can take advantage of additional coverage options like identity theft protection and loss of use insurance. In terms of performance, transparency, customer service, and financial strength, Allstate scores a 4.5 out of 5.
4. Lemonade
Lemonade offers suitable renters insurance coverage for students residing in Tempe, Arizona. Their basic policy is only $13.84 a month or $154 a year, which is affordable for individuals on a tight budget. This insurance plan provides $20,000 in personal property coverage, $3,000 for portable electronics, $100,000 in personal liability, $6,000 loss of use, and $1,000 for medical payments if a guest or neighbor injures themselves on your rental property.
The great thing about Lemonade is that you can increase or decrease coverage in different areas to create your ideal plan. Lemonade gets a 4.5/5 star rating.
5. GradGuard
GradGuard is an insurance company created to protect college students. The company's standard renters insurance policy only costs $15.62 a month. Policyholders get $10,000 in personal property coverage, $100,000 in liability coverage, and a $100 deductible.
A $1 installment fee is tacked onto monthly recurring payments. Students living on campus can also enjoy the extra protection provided by GradGuard. Although GradGuard was developed in 2008, its rental insurance is underwritten by Markel American Insurance, a billion-dollar corporation. GradGuard gets a 4.5 out of 5-star rating for its affordability, good customer satisfaction, and financial stability.
6. Acuity
The standard renter's Acuity policy protects your home and personal assets for just $237 a year. This policy includes $30,000 property coverage and $300,000 in personal liability with a $500 deductible. Acuity offers a 20% deal on renters insurance if you purchase the auto or motorcycle insurance bundle. For an extra $50 a year, students can get coverage for valuable things such as jewelry, watches, and furs. They also offer cyber protection for an additional $35 a month.
Acuity has a reputation for having excellent customer service. The provider also has a high credit rating score which means that the company is fiscally stable. Acuity renter's insurance is slightly higher than the annual cost Lemonade, Allstate, and USAA standard renters policies.
Perhaps the biggest downside is that the provider doesn't have a monthly payment option. Policyholders must pay one annual lump sum or quarterly with an additional $5 processing fee. Overall, Acuity has a 3.5 out of 5 rating.
7. Nationwide
The monthly rate for Nationwide's basic renters' insurance policy is $31.32 or $375.82 a year and a $500 deductible. Nationwide's renters' insurance policy offers up to $15,000 in personal property coverage, $100,000 in personal liability, and a maximum of $1,000 in medical payments to individuals injured on your property.
Policyholders can purchase extra protection for high-value items such as jewelry, cameras, and firearms. Discounts are available to renters with fire, burglary, and smoke alarm systems installed in their homes. Nationwide renters insurance scores a 5 of 5 for overall outstanding performance, website transparency, financial stability, and great customer service. They score 3.5 out of 5 in terms of affordability, as they are one of the most expensive providers.
8. Amfam
AmFam standard economy renter's insurance policy is the most expensive plan. For $34 a month, policyholders get $15,000 of personal property insurance, $5,000 of loss of use, $300,000 of liability, and $5,000 of medical expenses coverage for visitors that injure themselves while on their premises. In addition, policyholders will have to pay a $1,000 deductible to have the provider pay a claim, which is quite pricey for college students.
AmFam is a reputable insurer known for its responsive customer service team. Since they are one of the most expensive rental insurance providers, they scored a 3.9 out of 5.
Renters Insurance in Arizona: What You Need to Know
As a student living off-campus, whether alone or with a roommate, you must protect yourself by investing in renters insurance. The average cost of rent in Arizona ranges between $1,062-and $2367, depending on several factors such as the area and the size of the living space. More than 34% of Arizona residents are renters. The average cost of renter's insurance in Arizona is $12 a month, less than $200 a month, just a tiny fraction of rental payments.
Renters' insurance in Arizona is inexpensive compared to states like New Jersey, Arkansas, Georgia, Montana, and Oklahoma, where policyholders pay over $20 a month for basic coverage. Additionally, the cost of renters insurance in this state is 0.8 less than the national average. Protecting your essential belongings won't break the bank.
What Does Renter's Insurance NOT Cover in Arizona?
Most renters' insurance policies don't cover the following items or events:
Earthquakes and flood damage – Unfortunately, providers don't cover common perils like earthquakes and flooding. You'll need to buy a separate flood and earthquake policy that ensures the protection of your belongings.
Car Theft or Damage – Your renter's insurance doesn't cover damage or theft to your vehicle or the belongings inside.
Roommate's Property – A standard renters insurance policy doesn't compensate for your roommate's damaged or stolen property. You'll need to list them on your policy to split the coverage.
Expensive Items – Typically, high-value items are excluded from a basic policy. Increasing your coverage limits will ensure that your expensive items are protected.
Next Steps
Are you ready to sign on the dotted line and purchase renters insurance? Don't rush the process. Before paying for a policy, make sure you thoroughly read the policy to know exactly what's covered, and try to get more than one quote so you can be sure you are getting a fair price. Sarah Gilbert is a licensed insurance broker, specializing in auto, home and renters insurance products. She reviews insurance content on College Educated for accuracy and has a particular passion for making sure that college students and recent graduates have proper insurance coverage. Her latest passion includes researching all forms of business insurance, to ensure that recent college grads who look to entrepreneurship can have the right protection.