The Best and Cheapest Renters Insurance in Illinois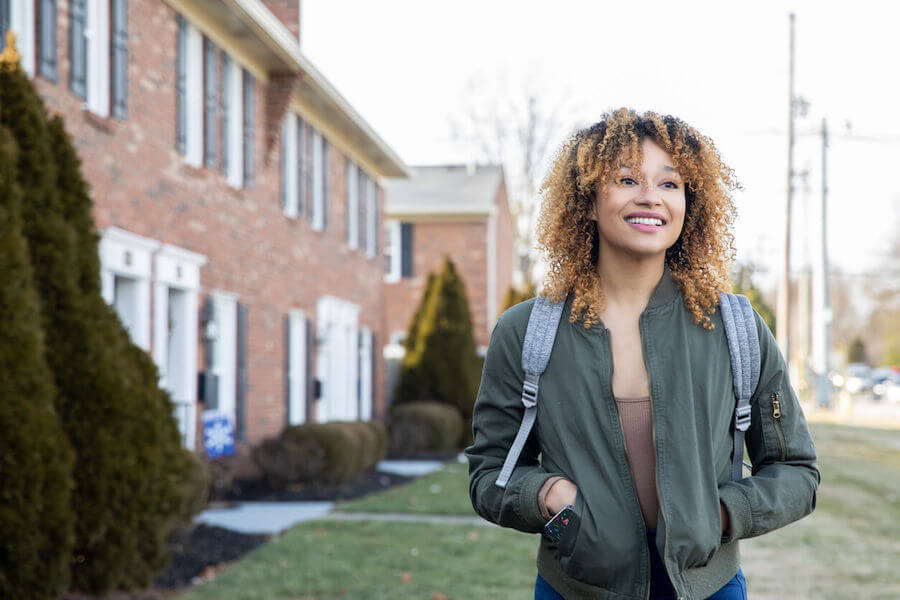 Illinois is one of the top states for college students in the country. You can study at the University of Illinois at Champaign-Urbana or the main campus of the same name in Normal. Other major college towns include Evanston, Charleston, and River Forest. No matter which college or city you choose, make sure that you also snag renters insurance. Though Illinois is home to many college and university campuses, those schools do not cover the loss of belongings that occurs due to theft or burglary. We'll go over the best and cheapest renters insurance in Illinois along with the top reasons why you need coverage.
Why Do Illinois Students Need Renters Insurance?
Parents like to think that their kids are safe when they send them away to college. You may even think that you're safe because you see police booths scattered across campus and security measures that limit who can enter dorm rooms. Some schools and cities are not as safe as you might assume. Sixteen students at the University of Illinois in Champaign-Urbana are the victims of burglaries every year. This number drops to just one per year for students in River Forest and Charleston. Normal students report an average of five burglaries a year. Those living in Evanston who attend Northwestern University and similar schools report 11 burglaries every year.
Burglaries occur when someone gains access to your home and steals from you. This can include a friend of your roommate or even a friend who knows someone who lives on your floor. You don't even need to meet the person who stole from you. While your auto insurance covers the car thefts that happen around these campuses, only renters insurance in Illinois will cover the theft of your personal property. Finding the best and cheapest renters insurance in Illinois can protect you both while you live in a dorm room and when you move into an apartment.
How Much is Renters Insurance in Illinois?
It's not surprising that you want to know how much renters insurance is in Illinois. When you live in a dorm room, you need to pay for both the cost of the room and a meal plan. Living off-campus can cost just as much and even more. Renters insurance is usually affordable and often available for $1 per day or less. Take a look at some of the quotes we got from Lemonade for a 20-year-old male college student who lives in Illinois.
| | |
| --- | --- |
| College Town | Monthly Premium Amount |
| River Forest | $10 |
| Charleston | $10 |
| Normal | $11 |
| Urbana | $11 |
| Evanston | $12 |
Best Rental Insurers in Illinois
Take a look at which insurers offer the best rates for students living in Illinois below. You can then learn more about those companies and what they offer to see why some are better than others.
| | |
| --- | --- |
| Insurer | Monthly Premium |
| Acuity | $11 |
| Lemonade | $12 |
| Safeco | $13 |
| USAA | $14 |
| Allstate | $14 |
| GradGuard | $14 |
| Nationwide | $15 |
| AmFam | $23 |
Cheapest Renters Insurance in Illinois
Acuity
When we compared rates from the top companies for renters insurance in Illinois, Acuity came out as the cheapest option. Your rate will vary based on whether you have multiple roommates or need additional coverage. Your basic policy comes with $30,000 in property coverage and $300,000 in liability protection. Acuity gives you $12,000 coverage in loss of unit assistance, which is more than many companies offer. This policy comes with a $500 deductible that you need to pay when you file a claim. Acuity has other coverage that you add for a monthly fee too such as protection against water damage and coverage for valuables that are worth more than your property limit.
Lemonade
Lemonade offers affordable renters insurance for college students living all across Illinois. Though you pay around $11 per month, you get a $12 discount when you pay by the year, which brings your price down to $115. Lemonade asks many questions before it will give you a quote like whether you have valuable electronics that are worth $1,500 or more and if you live with a roommate or pets. Your policy only covers your belongings and not anything your roommate owns. Lemonade gives you $30,000 worth of coverage for your personal property and liability coverage of $100,000. You get $9,000 in loss of use coverage along with $1,500 of coverage for portable electronics. You can adjust your coverage limits and change your premium too.
Safeco
Safeco is a large company that partners with independent agents to help you find an insurance agent in your city. Your policy comes with coverage for any living expenses you have if you need to leave your home due to an emergency. This can include staying in a hotel while the university fixes fire damage or a broken window. Safeco policies include liability coverage as well as coverage for your personal property up to $30,000. You can add coverage that replaces your personal property for only $2 a month and add coverage for identity theft for only $1 each month. Safeco can also cover any valuable items that put you over your coverage limit for a small monthly fee.
USAA
Though USAA offers great coverage for renters, not everyone can become a customer. USSA launched in the 1920s as a way for officers and their families in the Army to get affordable auto insurance. You can only become a USAA customer if you are the child or the spouse of someone in the military or you are/were in the military. These policies cover a lot of emergency situations that other policies do not such as damage caused by lightning and vandalism. While you can change the limits on your policy, you get $30,000 of personal property coverage and $100,000 of liability coverage. USAA helps you save more when you bundle two or more policies together or pay by the year.
Allstate
Not only does Allstate offer affordable renters insurance in Illinois, but your price will drop even more if you buy auto insurance from the company. Some pay as little as $4 per month to protect their homes in addition to what they pay for car insurance. A basic policy covers all of your personal property like your computer and television up to $30,000. Liability coverage is useful if someone suffers an injury in your dorm room or apartment. Allstate lets you choose between actual cash value where you get the full value of stolen items or replacement value where the company only pays what the items are worth now. This option is a little more expensive but can save you some money in the long run.
GradGuard
GradGuard is not as well-known as some of the other insurers are but can help you find affordable insurance no matter where you live in Illinois. For only $14 per month, you get $10,000 worth of property coverage and $100,000 in liability coverage. You can increase your property coverage up to $30,000 and still pay less than $25 per month. GradGuard also offers affordable deductibles because it knows that college students don't have a lot of money and may have a rough time coming up with their deductible. The highest deductible is $1,000, but you can keep your premiums low with a deductible of only $100 that you can come up with quickly after an emergency or a theft.
Nationwide
Nationwide claims that it is always on your side and offers cheap insurance for college students in Illinois. With a standard policy, you get up to $20,000 worth of coverage for your personal property, which can cover both your textbooks and electronics as well as your bedding and furniture. You can choose the optional brand new replacement coverage too, which requires that Nationwide pay for the full value of anything you lose during a burglary. Nationwide also offers plenty of ways to help you save money on your monthly bills. You can bundle your auto insurance with your rental policy and get a discount for doing well in school or maintaining a good driving record.
AmFam
You might know AmFam as American Family, but you probably don't know that this company offers different policies to help you choose an affordable option. The traditional plan is available for $23 and comes with $300,000 of liability coverage and $25,000 in personal property coverage along with $7,500 worth of help if you can't live in your room or apartment. AmFam increases your personal property and liability coverage up to $50,000 and $500,000 when you choose the premier plan for $36 a month. If you need to save even more money, opt for the economy plan that costs only $17 per month and comes with $4,500 in loss of use and $15,000 of personal property coverage as well as liability coverage of $300,000.
Renters Insurance in Illinois – What You Need to Know
Illinois has no laws that require tenants to have insurance. Only those who own rental properties need insurance. Their policies will protect their buildings from damage caused by former tenants as well as natural disasters. When you request a quote for the best and cheapest renters insurance in Illinois, you need to have the full address of your new home as well as your full name and date of birth. Insurers use that information to determine if you're a risk, which will require that you pay more for coverage. The companies also need that data to get statistics about where you live and how likely you are to file a claim in the future.
Renters insurance policies in Illinois usually include both liability and personal property coverage. Liability coverage comes into play if your negligence caused damage to another person. This can include a friend of your roommate who trips over a stack of books you left sitting out or a neighbor who claims you caused an injury when you left your trash cans sitting out. Personal property coverage applies to everything you own. It can range from your television and computer to your clothing and furniture. Some policies also include loss of use coverage. If you cannot live in your rental for something caused by another person or a disaster, your policy will pay for your hotel room and other expenses.
What Does Renters Insurance in Illinois NOT Cover?
When you shop for the best and cheapest renters insurance in Illinois, you might expect to buy a policy that covers everything you own and everything that could happen. This is not always the case though. Many of these policies do not cover flooding or any issues that occur because of flooding. Illinois winters are quite cold and can cause pipes in your apartment building or dormitory to break. You may find that your policy does not cover a computer that the flood damages or similar problems.
Illinois renter insurance policies cover different types of theft but only the objects that the thief steals. Let's say that you forgot your laptop in your car when you came home from class or work and someone breaks the window to steal it. Your policy will cover the laptop and anything else that the thief took. It will not cover the broken window or any other damage the person did. You'll also have a hard time getting coverage for things you cannot prove you owned. Keep any receipts when you buy valuable items or take photos of those items. Many insurers will accept photos as proof of ownership.
You should also keep in mind that the policy you buy covers you and no one else. The policy will not cover the theft of your roommate's belongings or anything that a friend or significant other left at your place. If you have a roommate, they should buy a separate policy. Always check with the company you went through as some offer discounts if both you and your roommate buy a policy.
Whether you live in Urbana, Charleston, Normal, River Forest, Evanston or any other college town in Illinois, make sure you get renters insurance before you move into a dormitory or apartment building. Your campus or landlord is only responsible for coverage that protects them and their investment. With renters insurance in Illinois, you can protect yourself and your belongings from almost any type of situation. Sarah Gilbert is a licensed insurance broker, specializing in auto, home and renters insurance products. She reviews insurance content on College Educated for accuracy and has a particular passion for making sure that college students and recent graduates have proper insurance coverage. Her latest passion includes researching all forms of business insurance, to ensure that recent college grads who look to entrepreneurship can have the right protection.