The Best and Cheapest Renters Insurance in Alaska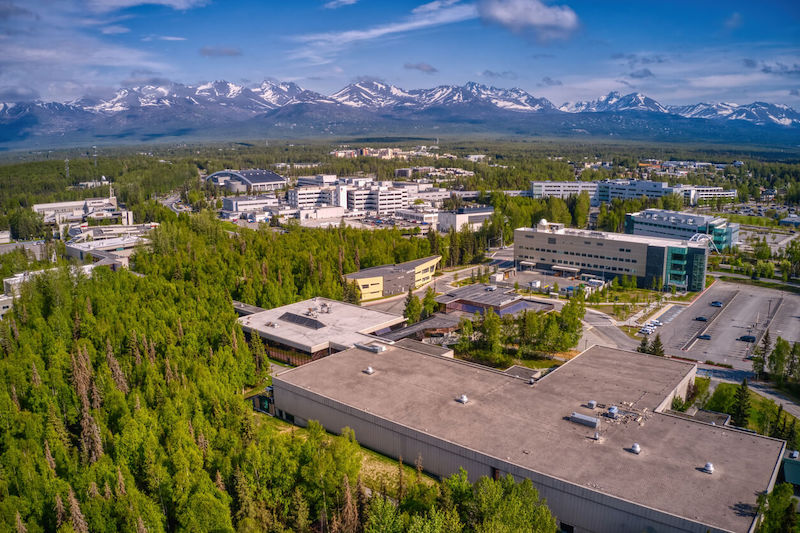 Located far north, Alaska is a great option for college students who want to get away from their parents. Known as the Last Frontier, this state offers tons of opportunities for students. The University of Alaska has several branches scattered across the state, but you might attend Alaska Bible College or another school too. While most cities are generally safe, you can't always stay as safe as you might like.
The top four college towns in Alaska include Fairbanks and Juneau as well as Palmer and Anchorage. When you're in a rush to get to class or back home at the end of the day, it's easy to make mistakes that you wouldn't normally make. All it takes is one person to snag your backpack when you stop for coffee for you to lose a lot of your valuables. Renters insurance helps you file a claim to get the money that helps you replace your missing things. The right policy will also cover thefts that occur when you live on campus or in an off-campus apartment.
Why Do Alaska Students Need Renters Insurance?
Burglary is a crime that can occur at any moment and anywhere. The best and cheapest renters insurance in Alaska charges you a premium that you pay by the month. Many companies offer discounts if you pay for the whole school year at once. When you file a claim, you list all of the belongings that you lost and pay your deductible. Your insurance will pay the rest of the money you need to replace those items. Don't assume that you're safe from thieves because you live in a secure building. Thieves can get inside when someone leaves the door open or they follow residents inside.
One of the safest college towns in Alaska is Juneau. Just two students report that they were the victims of theft every year. You're also safe if you attend college in Palmer. In most years, students report no robberies. The chances that you might become a victim of theft rise if you live in Fairbanks, which sees four reports filed every year. An average of six students report thefts in Anchorage every year too. We help you find the right renters insurance while living in Alaska to cover all of your belonging during the school year.
How Much is Renters Insurance in Alaska?
Lemonade is a very popular choice for college students who rent homes. You don't need to deal with a pushy sales agent over the phone or worry about no one being available when you need to file a claim in the middle of the night. Lemonade allows you to do anything that you need through the app that you download to your phone or a mobile device. To see how much renters insurance costs in Alaska, we asked Lemonade for quotes concerning a 20-year-old college student who lives in the top college towns. Finding an answer to how much is renters insurance in Alaska is as easy as looking at the chart below.
City, Premium Per Month
| | |
| --- | --- |
| Palmer | $9 |
| Juneau | $9 |
| Fairbanks | $10 |
| Anchorage | $11 |
You should not assume that the rate you pay for an Alaskan policy will be the same as these figures. Lemonade looks at where you live and the risk that you'll file a claim. Your premiums also change when you add more coverage. These policies include both liability and personal property coverage. Liability coverage kicks in when you are liable for an injury sustained by someone else. Personal property coverage is more important because it's the coverage that covers your stuff.
Top Renters Insurance Companies in Alaska
Company, Premium Per Month
| | |
| --- | --- |
| Allstate | $7 |
| Lemonade | $9 |
| Safeco | $9 |
| GradGuard | $13 |
| Nationwide | $15 |
| USAA | $15 |
Allstate
Allstate is the largest provider of renters insurance in Alaska and has a handle on more than 20% of the market. Thanks to the low prices the company offers, you never need to worry about choosing between paying your insurance and buying new textbooks. When you go a full year without filing a claim, Allstate will reward you with a safe customer discount. You also qualify for a discount if you live in a building with safety features like a burglary alarm and a secure entrance. With an Allstate policy, you can increase your personal property coverage up to $100,000 or more.
Lemonade
Though Lemonade doesn't always come out as the cheapest company for renters insurance, it's one of the more affordable options in Alaska. Policies start at as little as $9 a month, but it rises to $11 per month in some areas. One of the benefits of working with Lemonade is that you can fill out a form and choose a policy in only 90 seconds. Another benefit is that when you file a claim online, Lemonade can pay the money you deserve within a few minutes. Your policy covers both theft and damage. While some companies only pay to replace your stolen belongings, Lemonade will pay for any damage that the thief did.
Safeco
Safeco offers plans for people who live in Alaska full-time and students who live there only part-time. The standard insurance plan for renters includes both liability and personal property coverage. You also get coverage for living expenses if you need to leave your rental apartment for any reason. While standard plans cost around $9 per month, you can save with an annual plan, which requires you to pay around $100 for the full year. Safeco lets you add total replacement value coverage for only $2 per month. This pays for the total cost of replacing anything you lose as the result of a theft or burglary.
GradGuard
If you're in the market for renters insurance designed for college students, go with GradGuard. Not only can you get rental insurance, but you can also get tuition insurance that comes in handy when you cannot attend school. GradGuard guarantees that you'll never pay more than 2% of the total cost of the insurance that you need each year that you have coverage. When we entered information about a male college student, we got a quote of $13 a month. Your plan covers up to $30,000 worth of your personal property and comes with liability coverage too.
Nationwide
Nationwide is unfortunately the most expensive option for renters insurance in Alaska. Another issue with this company is that Nationwide does not offer service in the state. It instead partnered with a company called MyLifeProtected. You need to fill out a form on the website to get help. Unlike other companies that give you a quote on the spot, Nationwide through MyLifeProtected will have a rep contact you the next business day. This wastes a lot of valuable time, especially if you need to move in a hurry. Most plans have a deductible of $500 with $25,000 of personal property coverage and $300,000 of liability coverage.
USAA
Are you a veteran who served in a branch of the military or have a parent who served? You qualify for a USAA policy. Started by a group of veterans who wanted to help those in the military find affordable insurance, USAA expanded from initially offering just car insurance to policies that include coverage for renters and those who own their homes. Nearly 20% of renters who choose insurance in Alaska go through USAA. As USAA has so many local offices, you'll find that you can easily get help filing a claim. You may find that you get a check for your money faster too.
Acuity
Though Acuity is a popular option for college students who need renters insurance, the company does not operate in Alaska. Unlike Nationwide, which partners with a local company to help renters, Acuity does not. You can only work with Acuity to protect your belongings if you live in a covered state.
AmFam
Formerly called American Family, AmFam is another company that offers renters insurance for college students. Unfortunately, it does not serve those who live in Alaska. When we requested a quote, AmFam directed us to Connect, which is a subsidiary of the company. Connect could not find any options for students in Alaska.
What You Need to Know About Alaska Renters Insurance
Is Rental Insurance Mandatory in Alaska?
Alaska does not require that you hold a renters insurance policy, although your landlord may require this anyway. Many landlords now require that tenants have a policy and ask for proof of it before you can rent from them. Though you may have the option of showing a copy of your policy before your move-in date, some may ask for proof that you have a quote from a company before you apply or sign a lease. Some landlords are not happy to rent to college students because of the damage they can cause but are willing to rent to students who have insurance.
Do You Only Need Insurance if You Live Off-Campus?
A common mistake that some students living in Alaska make is that they think that don't need insurance if they live in a dorm room. Alaskan colleges have dorms that serve as your home away from home. You might get lucky and live by yourself in a single or not be as lucky and wind up with one or more roommates. Depending on the type of insurance your parents have, you might have some coverage in your dorm room. This usually only applies to a percentage of the total coverage they have. If your parents have a policy with $50,000 worth of personal property coverage but only 10% applies to off campuses residents, you cannot file a claim for more than $5,000. It's often better to have your own policy that covers you while you're away from home.
Renters insurance is even more important if you live in an off-campus residence. Fairbanks and other major college towns have apartment complexes filled with college students. While your parents' insurance should cover your dorm room, the policy likely won't cover your apartment. You need a policy designed for you that protects your belongings. This is especially important if you plan to live in Alaska year-round rather than just during the school year.
One thing you need to know about Alaska renters insurance is that most policies cover just one person. Some companies allow roommates to share a policy, but this is a little risky. Let's say that you have a total of $25,000 in property coverage and someone breaks into your apartment. When you and your roommate begin listing everything you own, you may find that you quickly hit your coverage limit. This may result in both of you losing some of the money you need to replace your items. You should also keep in mind that it's often hard to separate the policy when one of you moves out.
How Do Alaskan Companies Determine Your Premiums?
There are many factors that determine your Alaskan premiums, including where you live and your age. Most companies view older students as more responsible and less likely to file claims, which is why those going back to school and graduate students pay less than undergrads do. The one exception is when an older student has a poor credit score or a history of filing claims through another insurer. Your location also affects your rates, which you can see in our Lemonade chart. It costs more to buy insurance in cities that have a higher rate of robberies and burglaries like Anchorage and Fairbanks. Don't forget about your deductible either. While raising your deductible will lower your premiums, lowering your deductible will increase the amount you owe every month.
Next Steps
Do you currently attend college in Alaska or plan to move to the state for school? Give some serious thought to signing up for renters insurance. There's no guarantee that the policy your parents have at home will cover you at school. Though there are fewer companies that serve residents of Alaska, you still have several options. Allstate and Lemonade along with Acuity offer the best and cheapest renters insurance in Alaska. Sarah Gilbert is a licensed insurance broker, specializing in auto, home and renters insurance products. She reviews insurance content on College Educated for accuracy and has a particular passion for making sure that college students and recent graduates have proper insurance coverage. Her latest passion includes researching all forms of business insurance, to ensure that recent college grads who look to entrepreneurship can have the right protection.