The Best and Cheapest Renters Insurance in Vermont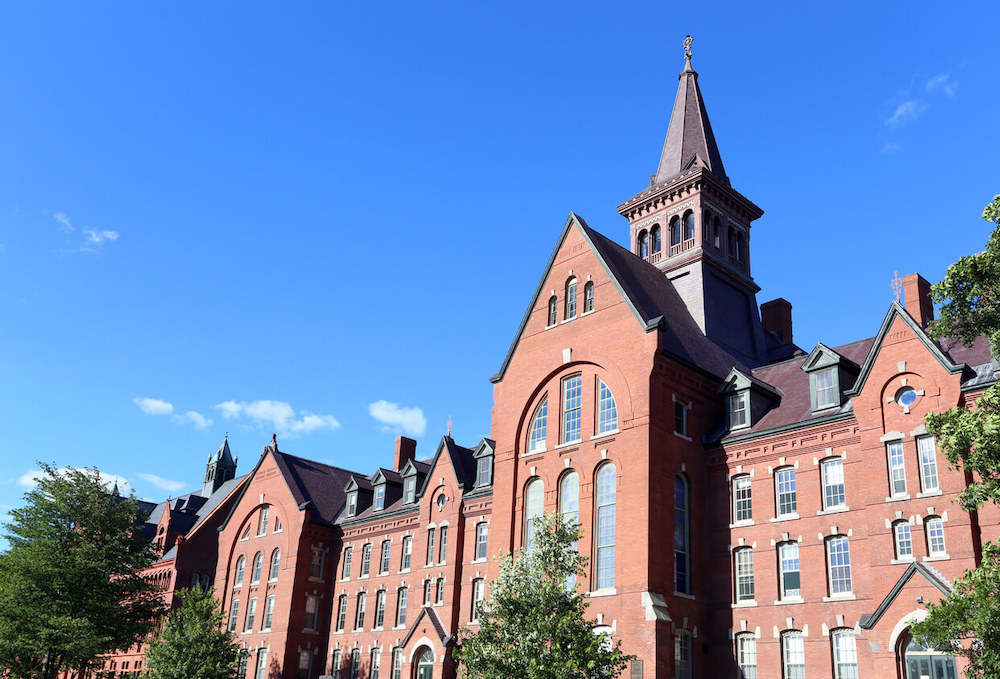 Unlike auto insurance, renters insurance is not a legal requirement in Vermont. However, some landlords may require you to have renters insurance and will document it in the lease. Whether it's required or not, having renters insurance is very important because we never know when a tragedy can strike and destroy everything we own.
Secondly, we often underestimate the value of our personal belongings. We don't fully understand its value until we have to replace the items. I only mention personal belongings because that's what renters insurance covers. It will not cover the actual building because that's the landlord's responsibility.
Renters insurance is important for anyone that rents their home, and this includes college students who are living off-campus. Renter's insurance can be purchased through several companies in Vermont. College students are typically unfamiliar with renters insurance and will search for the best and cheapest renters insurance in Vermont.
This overview of renters in insurance offers some helpful information including answering the most often asked question: how much is renters insurance in Vermont?
Why Renters Insurance is Important for College Students
Renter's insurance is every bit as important to college students as it is for their parents and for the same reason. They may be living away from home, but they still have their own personal belongings. College students don't typically take all their personal possessions with them when they go away to college, but they take their favorite things, and these have value.
College students living off-campus have the same risk of losing their possessions through a catastrophe as adults living elsewhere. Students often lead very busy lives between attending classes, studying, and often holding down a job. They don't need the added burden of worrying about losing their possessions or having to replace them if they get destroyed.
Many college students are struggling financially and would not be able to afford to replace their items. Having a good renter's insurance policy can assure students that they won't have this financial worry. For just a few dollars a month, they can protect their possessions.
College Burglary Statistics for Arkansas Students
Vermont is a very small state. In fact, only about a half dozen states are smaller than Vermont. Another interesting fact is that Vermont was recently ranked as one of the best states to live in America as well as one of the safest states in which to live. Vermont has a very low crime rate. It has the fifth-lowest property crime rate in the nation.
Despite the positive qualities of Vermont, crime does still exist for adults and college students, which is another reason it's important these students have renter's insurance. For instance, the University of Vermont (UVM), one of the larger colleges in Vermont, reported 46 arrests in 2019 for major crimes on campus, which include theft and burglaries.
While this might seem like a small amount, it works out to be three incidents per every 1,000 students. The number of off-campus crimes was only five. There are around 20 colleges and universities in Vermont. Although there are not a lot of crime-related statistics for Vermont colleges, research does show that colleges have a very low crime rate.
Below is a list of some of the safest cities in Vermont.
Shelburne
Middlebury
Barre
Colchester
Essex
Swanton
Milton
Williston
Morristown
Northfield
These cities have crime rates that are from 55 percent to 85 percent below the national crime rate. However, while these cities have low crime rates, the highest number of crimes were property and larceny. Despite the rate of crime being much less than most other states, there is still a need for Vermont renters to have renters insurance.
How Much Does Renters Insurance Cost?
One of the main reasons why college students, and even adults, tend to shy away from insurance is because of the cost. After all, who wants to spend money if they don't have to? Many are surprised to discover how cheap renters insurance can be. After asking, "How much is renter's insurance in Vermont?", many are surprised at the cheap premiums.
For many college students, the monthly premium comes to less than they would spend for an evening out with their friends. However, renter's insurance premiums are not the same for everyone. Various factors go into determining the cost of the premiums.
Location – You've heard the saying it's all about location, and that's a fact with renters insurance. When checking for rates, almost the first thing you'll be asked for is your zip code. This is because some cities result in higher premiums.
How You're Reimbursed – Insurance companies will usually pay either actual cash value, which is what the item is worth or actual replacement value, which is what it actually costs to replace the item with a new one. The actual replacement value is more expensive than the actual cash value. Not all insurance companies offer both.
The Coverage You Choose – There are different types and amounts of renters insurance you can purchase, and your premiums are based on the coverage you buy. The more coverage you choose, the higher your premium will be.
Credit Rating – Most renter's insurance companies in Vermont use your credit scores when determining the premium. Their belief is that renters with low credit scores are apt to make more claims. Therefore, the better your credit, the lower your premiums will be.
Deductible – The deductible you choose plays a big role in determining premiums. The deductible, which can range from $50 to $2,000 or more, is the amount renters pay before the insurance companies pay on a claim. The deductible is per incident.
Construction Type – The type of home and construction materials used to build the home are also used to determine premiums. They also take the age of the home into consideration.
Discounts can really decrease the cost of your renter's insurance, and most insurance companies offer many discounts, including bundling discounts and good student discounts to name a few. Ask your agent about any discounts they may offer.
How Much is Renters Insurance in Vermont?
How much is renter's insurance in Vermont? This is a question asked by many Vermont renters and college students. There is no clear-cut answer because every company is different, and it depends on the coverage you choose. Most renter's insurance policies offer the same type of coverage, but it's the amount of coverage and deductible you choose that will ultimately determine the cost. Renters' insurance generally offers these types of coverage.
Personal property –This covers everything you own inside your home.
Personal liability – This offers coverage against lawsuits from people who are injured while on your property.
Medical payments to others – This pays medical bills for people injured at your home.
Additional living expenses – This pays you to live somewhere else while your home is being replaced or repaired. It pays for rent, food, and travel expenses up to a certain dollar amount.
Below are some samples of how much renters insurance might cost in Vermont for a basic policy. We've chosen one company but five different cities in Vermont. Each one is for the same coverage amount.
Personal possessions – $50,000
Medical payments – $5,000
Personal liability – $300,000
Deductible – $1,000
Additional living expenses – $20,000
The following rates are for a 20-year-old male college student:
| | |
| --- | --- |
| City | Monthly Premium |
| Burlington | $13.50 |
| Castleton | $14.50 |
| Middlebury | $12.90 |
| Northfield | $14.50 |
| Randolph | $15.15 |
The Best and Cheapest Renters Insurance in Vermont
As noted in the above quotes, it can be determined that renters insurance is similar from city to city. There are some variances, so students looking for the best and cheapest renters insurance in Vermont have many from which to choose. Here are some of the most popular renters insurance companies along with some information on the company.
Acuity Insurance
Acuity Insurance offers renters insurance that's not only affordable but also offers various extra options. They are highly ranked and offer easy claim processing. They're known for their excellent customer service. You can get this policy for about $13.50 per month.
Personal possessions – $50,000
Medical payments – $5,000
Personal liability – $300,000
Deductible – $1,000
Additional living expenses – $20,000
Liberty Mutual Insurance
Liberty Mutual Insurance advertises renters insurance for as low as $5 per month but offers many customization options. They also offer a 10 percent for signing up online. They're highly regarded by customers and businesses. Claims can be filed online or on the mobile app. The following coverage can be purchased for about $18.42 per month.
Personal property coverage – $25,000
Personal liability – $300,000
Medical payments – $5,000
Temporary living expenses – $5,000
Deductible – $1,000
Amica Insurance
Amica Insurance does offer some excellent renters insurance according to the U.S.N.W.R. Unfortunately, they do not offer renters insurance in Vermont at this time.
Nationwide Insurance
Nationwide Insurance offers renters insurance that also includes building alteration coverage as well as credit card protection. AM Best, Forbes, and U.S.NWR rank Progressive very highly for customer service, ease of use, price, and great coverage. Claims are handled on the phone and online. Unfortunately, Nationwide does not offer its rates online.
Progressive
Progressive might seem slightly higher than some of the other companies, but they also offer additional coverages like mold liability. Customers can submit claims on the phone, in person, or online. They are rated highly by U.S. News & World Report. For about $28.58, you can get a renters policy with this coverage.
$50,000 for personal belongings
$300,000 for personal liability
$5,000 for medical payments for others
$1,000 deductible
State Farm Insurance
State Farm Insurance is chosen by many Vermont renters. They offer a nice basic renters policy and are rated highly for their user satisfaction and affordability. Vermont renters can get a policy with good coverage for about $6 to $11 per month according to their website. However, you need to contact and speak with an agent to get an accurate quote.
The premiums for renters insurance in Vermont are lower than the national average. Based on the companies researched, here are the companies with the lowest premiums.
Acuity – $13.50
Liberty Mutual – $18.42
Amica – $26
Progressive – $28.58
State Farm Insurance – must call agent
Nationwide – must call agent
What Does Renters Insurance in Vermont Cover?
Although most insurance companies providing renters insurance offer similar policies with similar coverage, it's still important to ask questions to know what the company will and will not pay for. A basic renter's insurance policy will offer coverage on personal property, liability insurance, medical payments, and additional living expenses. Personal property insurance covers your belongings for damage caused by fire, lightning, windstorms, hail, theft, and vandalism.
What Does Renters Insurance in Vermont Not Cover?
Like most types of insurance, there are some things that renters insurance in Vermont will not cover.
Flood damage – Although your renter's insurance may pay for water from a broken pipe or something similar, they will not pay for damage caused by flooding. If you live in an area prone to flooding, your insurance agent may recommend you purchase a flood policy.
Structural damage – Your renter's insurance will not cover any losses caused by structural damage. This type of damage is typically covered by your landlord on his homeowner's insurance.
Earthquake damage – Renter's insurance does not cover damage caused by earthquakes. You may wish to get earthquake coverage if you live in an area that does get affected by earthquakes.
Roommates – Unless you've specifically asked for coverage for a roommate, a basic renters policy will not pay for the loss of your roommate's belongings.
Expensive personal belongings – A basic renter's policy will only pay up to a certain dollar amount on expensive things like jewelry, computers, photography equipment, sports equipment, and art supplies among other things. For a lost cost, most policies offer you the opportunity to purchase additional coverage on these expensive items.
Sign Up Now
The best way to get the best and cheapest renters insurance in Vermont is to know what you want for coverage and to research various companies and not be afraid to ask questions. Above all, read the fine print so you know what you're getting for insurance coverage. Sarah Gilbert is a licensed insurance broker, specializing in auto, home and renters insurance products. She reviews insurance content on College Educated for accuracy and has a particular passion for making sure that college students and recent graduates have proper insurance coverage. Her latest passion includes researching all forms of business insurance, to ensure that recent college grads who look to entrepreneurship can have the right protection.