The Best and Cheapest Renters Insurance in Utah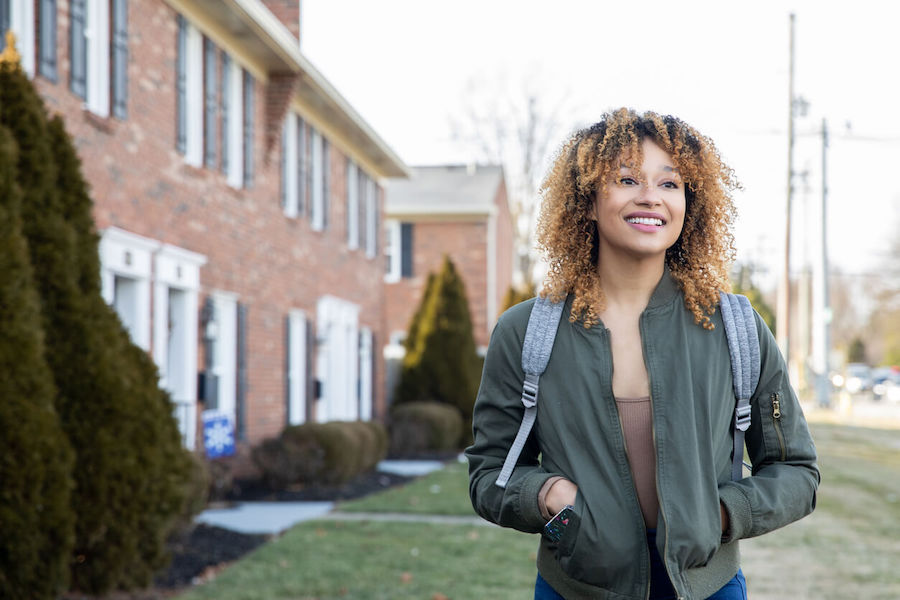 Renters insurance helps you protect your belongings while you're in school. Many college students living in Utah pick up renters coverage to go along with the coverage they have for their cars. Unlike the auto policy that your parents have which usually covers you while you're away at school, renters insurance requires that you have a separate policy. You'll find some great options that protect all your valuables. The best and cheapest renters insurance in Utah is often available for less than $10 per month, which you can easily afford. Check out which insurers offer the best rates along with everything else you need to know about renters insurance.
How Much is Renters Insurance in Utah?
The amount that you pay for rental insurance in Utah depends on factors such as your age and where you live. Provo is one of the biggest cities in the state. It is also home to Brigham Young University and other schools like Provo College. You are quite safe when you live in this city. Brigham Young University students report an average of four burglary cases and two assault cases as well as two motor vehicle thefts every year. The chances of you becoming a victim of assault or domestic violence are also quite low. Provo College students report even fewer criminal cases every year. That does not mean you should skip renters insurance though because you never know what might happen.
One of the top choices for renters insurance for college students is Lemonade. Lemonade makes it easy for you to buy the coverage that you need and become a customer without speaking to a single rep because you complete all of the required steps online. Unfortunately, Lemonade does not offer renters insurance in Utah right now. We'll take a look at some of the other top insurers and how much they charge Utah college students for renters coverage. The chart below shows the average price you'll pay for renters insurance in Provo.
Provo Renters Insurance Cost by Company
| | |
| --- | --- |
| Lemonade | Not available yet in Utah |
| Nationwide | $15 |
| GradGuard | $21 |
| AmFam | $24 |
| Acuity | $27 |
| USAA | $76 |
| Allstate | $105 |
| Safeco | $240 |
Best Places to Get Renters Insurance in Utah
While price is on your mind, don't let cost be the only thing that matters to you. The rates we found are valid in Provo only and differ in other college towns like Salt Lake City and Ephraim. We'll give you some more info on each company and why you might choose renters insurance through them.
Nationwide
Nationwide offers cheap renters insurance for both college students and anyone who rents. You can choose a basic plan or the Valuables Plus plan that offers more coverage for the most expensive things you own. All plans also cover any medical expenses that friends and loved ones have after they visit your home. As a bonus, you can bundle two or more policies and get a discounted rate.
GradGuard
GradGuard is a unique insurer that offers policies designed for college and grad school students. Our estimate above shows how much you pay per month, but you can also pay for a year of coverage in advance. The basic plan includes $5,000 of property coverage and $25,000 of liability coverage with a $100 deductible. Feel free to change these amounts to bring down the cost even more.
AmFam
Also known as American Family, AmFam has plans for as little as $15 a month, though you'll pay more when you live in a big city like Provo. You can add coverage for your pet if you have one and get protection for up to $1,500 worth of valuable jewelry and other items. AmFam will also pay for a hotel room if you need to leave your apartment while a contractor does the covered repairs.
Acuity
With Acuity, you qualify for renters insurance with rates of less than $1 per day. Roughly 96% of those insured through Acuity are happy with their services. Acuity covers all your belongings as well as damage done by natural disasters and emergency situations. You can add optional coverage for roadside assistance and anything else you might need.
USAA
USAA only offers rental insurance for students who are in the military or have a close family member who served. When you request a quote, you need to list the name of a parent who either served or has insurance through the company before you can become a customer. USAA plans include personal liability coverage and can replace any income you lose as the result of an emergency or disaster.
Allstate
Though Allstate is more expensive than other insurers, it has loads of bundles that reduce what you pay per month. When you bundle your auto and renter policies, you pay as little as $4 per month for renters insurance alone. Allstate has plans that cover up to $30,000 worth of items as well as any medical bills or living expenses that you need to cover.
Safeco
Safeco plans are expensive because they cover more things. A standard policy includes coverage for your personal property and living expenses along with liability coverage that comes in handy if someone is injured in your Provo apartment. For only $2 extra a month, Safeco will replace any equipment that you need in your home such as an HVAC system and things most policies do not cover.
Lemonade
Though Lemonade is not available in Utah right now, you can sign up and join the waiting list to find out when it comes to your state. These policies start at only $5 per month and allow you to file a claim online in the middle of the night or whenever you need help. Lemonade makes the process so easy that you can often sign up for coverage in 90 seconds or less.
What Does Renters Insurance in Utah Cover?
Now that you have an idea of which insurers offer the best and cheapest renters insurance in Utah, it's time to find out what your policy covers. Your policy will cover most of the belongings in your home but not all of them. It's important to keep in mind that these policies have a maximum coverage cap. If you file a claim for an amount above this limit, the insurer will only pay the figure shown in your policy. You may need to increase this cap to get more coverage. Some of the things covered by your policy include:
Laptops and other electronic devices
School textbooks and supplies
Blankets and bed linens
Home decorations
Renters' insurance policies for students in Utah also cover the living expenses you have when you can no longer live in your home. When a storm tears off the roof, you may need to stay in a hotel for a few weeks or longer. Your policy should cover both your hotel room and the meals you need. A good policy will pay for other people's medical bills too. Let's say that a friend trips over your carpet and breaks her leg. You can trust your policy to pay for her hospital bill.
What Does Your Policy Not Cover?
Though Utah is home to a lot of college students, apartment prices are on the rise. The average price for an apartment today is more than $1,500 a month and so expensive that you may need to live with a roommate. Before moving in with another person, keep in mind that your policy will not cover their property. Your roommate needs their own insurance policy to cover their belongings.
Utah policies do not cover flooding either. You need separate flood insurance to protect your home. When many people think of flooding, they think of the rising waters that occur during or after a storm. Insurers also use this term to describe water damage caused by a broken pipe. It's rare that a renters policy will cover water damage caused by a broken sewer drain or a frozen pipe. When the temperature in Utah drops, broken pipes often occur.
We also recommend that you look for policies that give you the option of adding more coverage, especially if you have a lot of valuables. Many policies have a limit of $10,000 to $30,000, but you may have some expensive items that you need covered. Most insurers offer optional coverage for valuables too. You can add heirloom jewelry or a big collection of video games to your policy for an additional fee. Some insurers require an appraisal to verify that you own those items and they are valuable.
What Affects Your Cost?
While the cost of Utah renters insurance can vary from less than $30 to more than $100 per month, you will likely see different figures when you request a quote. Each company will ask you a handful of questions to determine the rate that you pay. Two of the top questions are about where you live and your age. Don't be surprised if your quote changes when you move from Provo to Salt Lake City or to a different address in the same city. Insurers use the information that is available to them to see the crime rate in your location. Those who live in areas with a higher crime rate pay more for Utah renters insurance. Your age also affects your cost as younger people are a higher risk.
Both your coverage and deductible impact the cost of renters insurance for those living in Utah. Though some think that college students don't own much, you'll notice that the value rises as you look around your home. Between your computer and any other electronics you brought from home along with gifts from your family, you may hit the coverage limit before you consider everything you own in other rooms. If you need more coverage, expect your price to go up. The coverage limit can also refer to the liability cap and how much your insurer will pay out when others file a claim against your policy.
When it comes to your deductible, pick an amount you can afford. The deductible is the amount that you need to pay when you file a claim before your insurer will pay towards your claim. A $1,500 deductible is high enough that it may wipe out your savings. You may even find that you can't come up with this amount when you need it. Many college students find it helpful to select a $500 deductible, though this may increase your monthly rates.
Do Utah College Students Need Renters Insurance?
Utah does not require that college students have renters insurance. It only takes one issue for you to realize the benefits of having coverage though. Whether you attend a branch of Brigham Young University or another school, most campuses do not cover losses caused by theft. You might have a roommate who hates locking the door at night. Though Provo is generally safe, assaults and other crimes can occur. With the right policy in Utah, you don't need to worry about how you'll come up with enough cash to replace items that someone stole from you.
Renters insurance is popular with students who don't want to live on campus too. You don't need to abide by a curfew or follow strict rules when you move into an apartment within walking or driving distance of your school. It's easy to pick a policy that covers everything your landlord does not. Landlords need insurance to cover the building itself but not anything in it. What would you do if someone in the apartment next to you started a fire that spread to your unit? While your landlord gets money to pay for repairs to the building, none of that money will go to you. With renters insurance, your policy will cover both any property losses you had as a result of the fire along with the costs of staying elsewhere.
Next Steps
Why spend a lot of time looking at how to find the best and cheapest renters insurance in Utah? We tracked down the best insurers who help college students and anyone else who needs coverage. Get the protection that you need for all your belongings when you choose the right Utah renters insurance company. Annie Johnson is a licensed insurance broker, specializing in auto, home and renters insurance products. She reviews insurance content on College Educated for accuracy and has a particular passion for making sure that college students and recent graduates have proper insurance coverage. Her latest passion includes researching all forms of business insurance, to ensure that recent college grads who look to entrepreneurship can have the right protection.