The Best and Cheapest Renters Insurance in Alabama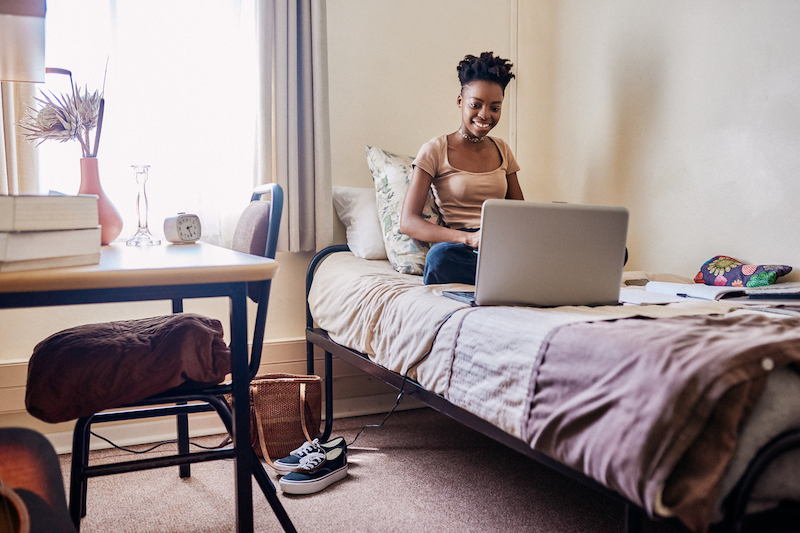 Most students going off to college will be moving outside of their parent's household and living on their own for the first time. Relocating is a grueling process, as you're no doubt concerned with moving your electronics, clothing, and other belongings to your new place. But, have you ever thought about what happens if your personal property is stolen, lost, or damaged due to an accident?
Many college students believe they don't own anything valuable or worth protecting. However, your textbooks and laptops are essential items that can cost thousands of dollars to replace. Now that you are on your own, it's vital to take steps to ensure your overall protection.
Do College Students Need Renter's Insurance?
If you are a student attending college in Alabama and planning on living off-campus, it's wise to consider investing in renters insurance. In some counties in Alabama, property crimes like home burglary and theft are at an all-time high. For instance, in Mobile, Alabama, 2,008 property crimes were reported in 2018. In Tuscaloosa that same year, there were more than 1,300 property-related crime reports.
Sadly, you never know when you'll become a victim of a property crime. House parties and even poor roommate living situations can often lead to the theft or damage of your possessions. It's best to prepare in advance for untimely events. When you have renters insurance, you can have peace of mind knowing that you can replace your possessions if something bad happens.
Do You Need Renters Insurance If You Are Living In A Dorm?
For students living in a dorm room or school-affiliated housing, renter's insurance may not be necessary. Many parents don't know that their homeowners' insurance extends coverage to their children in college if they live on campus.
What if your parents don't have a homeowner's insurance policy? College dormitories and housing offer limited protection. The insurance coverage they provide is capped at 10%. A separate renters insurance policy will come in handy, especially since stealing and vandalizing personal property often occurs in these living facilities.
What Is Renters Insurance and How Does It Work?
Renters insurance is an affordable insurance policy for individuals that rent their apartment, condo, or house. It helps individuals recover the value of their personal belongings in the event of theft or damage. Renters' insurance also protects against certain liabilities and covers temporary relocation costs if the rental unit becomes uninhabitable due to a covered event.
A standard renters insurance policy covers the following type of personal belongings:
Clothes
Furniture
Electronics
Kitchen related items and appliances
Sports and hobby equipment (bicycles, musical instruments, bowling balls, etc.)
Towels and Bedding
The insurance policy doesn't cover built-in appliances or fixtures in the rental unit. Events covered by renters insurance are; smoke, fires, explosions, vandalism, home burglaries, and theft. Natural disasters like windstorms and lightning are included, and water damage from internal sources such as a major plumbing problem on the property or a leak coming from a neighboring unit.
Liability coverage is another critical protection that renters insurance provides. This coverage helps you pay for legal and settlement costs if you are ever legally liable for bodily harm or property damage to someone else while on your rental property. Suppose a friend comes over and slips and falls on your wet floors. In that case, your liability coverage will pay for their medical bills and other damages they experienced due to the accident up to the policy's limit.
How Much Does Renters Insurance Cost?
Students living on a limited budget may be wary of paying for renters insurance. However, when you think of how much you'll have to pay to replace your textbooks, electronics, computer, clothing, and other essentials that you need, renters insurance sounds so much more reasonable.
You'll be surprised to learn that a basic renters insurance policy is relatively inexpensive for college students. For example, a 20-year-old student living in Mobile, Alabama, can obtain renters insurance for $11 a month for up to $20,000 in personal belongings coverage, $100,000 for liability.
The chart below analyzes renters' insurance rates in different cities in Alabama.
| | |
| --- | --- |
| City | Premium Cost Per Month |
| Mobile |  $18 |
| Montgomery |   $16 |
| Huntsville |  $14 |
| Birmingham |  $17 |
| Tuscaloosa | $16 |
The Best and Cheapest Renters Insurance Companies in Alabama
In addition to affordable pricing, the best renters insurance companies in Alabama provide timely and quality customer service. These insurance providers are also financially stable which means customers can have faith that the company will provide coverage in a covered event.
Here are the best renters insurance companies in Alabama rated on a scale of 1-5:
1.   USAA Renters Insurance
United Service Automobile Association provides the most comprehensive coverage at ridiculously low prices. A student living in Huntsville, AL, can pay as low as $10 a month or $120 a year for renters insurance with USAA. This policy includes $20,000 in personal property coverage and $100,000 in liability. Additional savings are available if you also obtain auto insurance through the provider.
The only downside is that active or former military personnel and their families are eligible for insurance through USAA. Overall, this provider gets a 5-star rating for affordability, excellent customer service, and excellent financial stability.
2. Safeco Renters Insurance
Safeco is a small insurance provider, yet their standard renter's insurance policy is very affordable. Students can expect to pay $10.50 a month or $126 a year for $20,000 personal property coverage and $4,000 for temporary relocation expenses with a $500 deductible. The great thing about this provider is that you can decrease your monthly premium by opting for less coverage.
According to past reviews, Safeco has a reputation for offering average customer service. Since the provider is a subsidiary of Liberty Mutual, they are financially secure, and customers can be confident that they will pay their claims.
3.   Allstate Renters Insurance
Allstate's basic renters' insurance policy starts at $15 a month for students or $180 a year for $15,000 personal property protection, $100,000 liability coverage, and $1,000 guest medical. The $1,000 deductible is slightly expensive for students on a limited budget. Customers can add on identity theft and expensive electronic and jewelry coverage. There are several discounts available to retirees. Based on affordability, financial stability, and customer service, this provider rates 4 out of 5.
4. GradGuard Renters Insurance
GradGuard is an insurance provider designed specifically for students. A standard renters insurance policy starts at $154 annually for $5,000 personal property coverage and $100,000 in liability protection. Students are subject to a $100 deductible which is the most appealing aspect of this plan. The provider uses an annual payment model.
Established in 2008, GradGuard is a new insurance provider compared to the others on this list. However, the provider is underwritten by Markel American Insurance Company, a reputable corporation that has been in business for over 80 years. This lends to their reliability. Several other insurance providers provide more comprehensive coverage for similar or lower premium rates. Therefore, GradGuard gets a 3.9 out of 5.
5. Travelers Renters Insurance
Travelers insurance has a suitable basic renters insurance plan that includes $30,000 personal property coverage, $9,000 loss of use funds, $100,000 liability protection, and a $1,000 medical expense limit for guests. The annual premium is $281, and the deductible is $1,000. Travelers Insurance provides multiple opportunities for a discount.
Travelers Insurance has high ratings in affordability, comprehensive coverage, and financial stability, so we rate this insurer 4.5 out of 5.
6. Nationwide Renters Insurance
Nationwide is one of the largest renters insurance providers in Alabama. One unique feature is that their coverage extends to items stolen from your vehicle while at home. For basic coverage, the monthly premium will be $27.81 or $333.66 annually for $15,000 in personal property, $100,000 for liability, and $1,000 in medical expense coverage.
This renters insurance plan is on the expensive side. However, customers will get top-of-the-line customer service, and they can have complete confidence in the provider's ability to pay out their claims. Nationwide receives a 4 out of 5 ratings.
What You Should Know About Renters Insurance in Alabama
In Alabama, about 30% of the total population are renters. Out of the 56 states and territories, Alabama has the 48th highest rent. The fair market rent in Montgomery and other cities for a one-bedroom is $764 and $914 for a two-bedroom apartment.
The average cost of renters insurance in Alabama in 2022 is $203 annually. When you look at the data, renters insurance is only about 2% of the cost of rent. Renters' insurance is generally affordable for students at all income levels.
What Renters Insurance Does NOT Cover
Renters' insurance doesn't offer protection in every situation. Knowing what's not covered by your policy is crucial. Most insurance providers won't cover the following events:
Earthquakes and floods – Renters insurance doesn't cover common natural disasters like earthquakes and floods. You'll need to invest in a separate insurance policy for flooding and earthquake damage for coverage.
Roommate's Property – If your roommate's belongings are stolen or damaged, they'll have to be listed on your policy to obtain compensation for their loss.
High-Value Items – If you own expensive jewelry, bags, or electronics, you'll need to increase your coverage limits to include your high-value items.
Next Steps
Have you ever heard the saying "better safe than sorry"? Renters insurance is one of the first things you should invest in when moving into your new home for college. Analyze each insurance provider's renters insurance policy so that you're selecting the best insurance plan at the most affordable price. Sarah Gilbert is a licensed insurance broker, specializing in auto, home and renters insurance products. She reviews insurance content on College Educated for accuracy and has a particular passion for making sure that college students and recent graduates have proper insurance coverage. Her latest passion includes researching all forms of business insurance, to ensure that recent college grads who look to entrepreneurship can have the right protection.