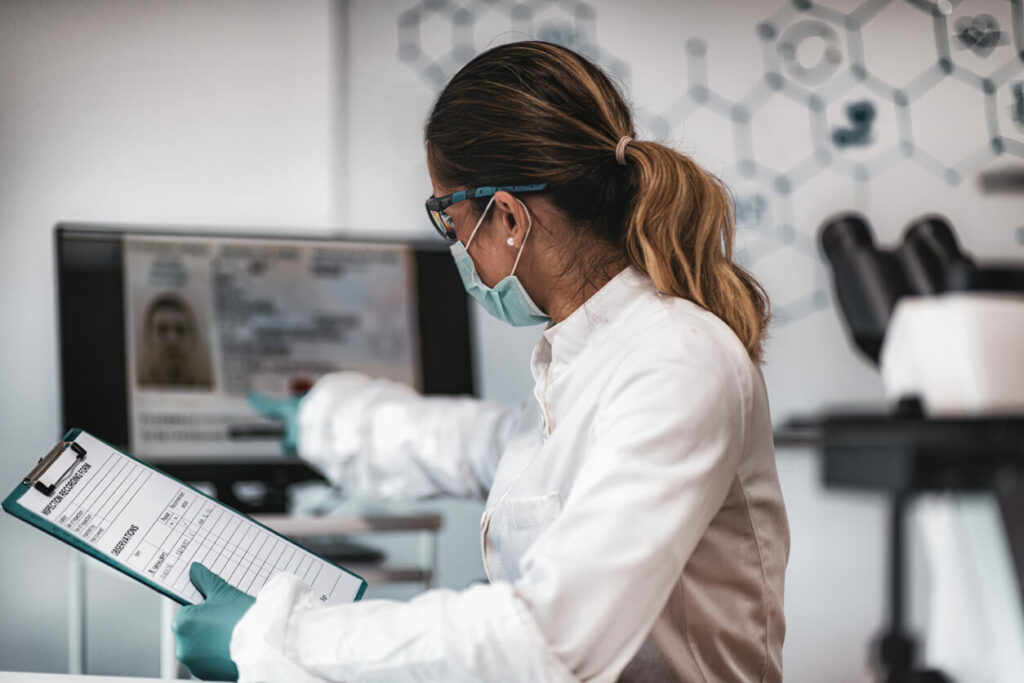 There are a variety of forensics disciplines that include crime scene investigation, forensic accounting, forensic nursing, forensic pathology and forensic science. Each of these disciplines involves using information collection to get to the bottom of a crime.
What is Forensic Science?
Forensic science involves the study of crime scenes and elsewhere to establish objective findings (evidence) that will help to build a case against a perpetrator or set an innocent person free. Forensic science professionals are an integral part of the criminal justice system and earning a forensic science degree is the first step to working in this field.
Forensic Science Degree
A forensic science expert can be a forensic science technician or a crime scene lab technician, working with blood samples, fingerprints, DNA, ballistics or in a variety of other areas to determine certain aspects of a crime. They may be biologists or chemists and there is a heavy science emphasis to these programs.
Types of Forensic Science Degrees
Forensic science students may be interested in an associate's. bachelor's, master's or even a doctoral degree. An associate's degree is a good starting point because they can get you in the door with a career in forensic science and crime scene investigation, and they are the shortest to complete. However, if you are looking to make more money and have even more job prospects, you will want to consider a bachelor's or an advanced degree.
Associate's Degree in Forensic Science
An associate's degree is 60 credits and takes about two years to complete. You can earn this degree at a community college or a four-year university or college. Once you earn an associate's degree, you can transfer the credits into a bachelor's degree. Associate's degrees have less stringent application requirements – you will only need a high school diploma or GED to apply.
Bachelor's Degree in Forensic Science
A bachelor's degree in forensic science is a four-year degree that usually takes about 120 credits to complete. In most cases, you'll have to complete this at a college or university. If you are an adult learner, you will most likely find a program that does not require tests or other admissions requirements, otherwise you'll need to take an SAT or ACT, submit transcripts and have a certain GPA to enroll.
Master's Degree in Forensic Science
A master's degree in forensic science is perfect for someone looking to really advance in the field. You'll take coursework that centers around your specialty in forensic science, and it will take about two years to complete. To apply to a master's degree program, you must first have a bachelor's degree, and if you didn't already earn your degree in forensics, you may need to take some additional courses.
Popular Forensics Courses
Biochemistry
Organic Chemistry
Genetics
Biochemistry
Accredited Forensic Science Degree Programs
If you are on the hunt for a forensic science degree program, you should look for one that is accredited. Accreditation at the forensic science degree level goes beyond making sure your college or university is accredited.
The American Academy of Forensic Sciences has an accreditation program called FEPAC (Forensic Education Program Accreditation Commission) that seeks to uphold certain scientific standards.
Other Forensics Programs
Forensic Accounting Degree
Forensic accounting programs range from bachelor's to master's level programs and use auditing and investigative skills to bring to light financial issues that are a part of a criminal investigation. Their findings are often used in court.
Forensic Psychology Degree
Forensic psychology studies how people behave and the criminal mind, along with studying the impact of crimes on victims and how to testify. These programs are usually graduate level programs and involve some in-person work.
Forensic Nursing Degree
Forensic nursing programs instruct nurses on the proper collection of evidence after a crime has been committed. Most forensic nurses earn an advanced certification (AFN) post-bachelor's degree and learn how to present and testify in court.
Forensic Pathology Degree
Many people learn about the field of CSI from shows like NCIS and CSI: Miami and its many other installments. Forensic pathology is a medical career and involves earning a medical degree. Many pre-med students earn a degree in biology or another type of science before applying to medical school. Luckily, if you want a career in crime scene investigation but you don't want to go to medical school, there are lots of other people on the CSI team, and you can earn a degree in something else.
Some forensic science degree programs include:
Bachelor of Science in Forensic Science
Master of Science in Forensic Science (MSFS)
Master of Science in Forensic Psychology
Master of Science in Forensic Accounting
Bachelor of Science in Cybersecurity
Some careers in forensic science include:
DNA Analyst
Autopsy Technician
Crime Scene Investigator
Forensic Scientist
Digital Forensics Expert
Crime Scene Analyst
You can read more about these at our CSI Careers center. If you are looking more for a career in criminal justice, then look at that career hub as well. There, you can explore salaries, career outlook and more for a wide variety of careers.
When it comes time to choose your degree, look at some job postings for careers you may be interested in. This can be helpful for determining what courses you'll need to take to get the career you want. Also, request information from a variety of programs. Each school will have its own unique approach to the curriculum and may have a different way of delivering the information. Whether you attend in-person or online, you'll want to find a program that is accredited, and is interesting and educational, so you will be well-prepared to enter the workforce in the field of crime scene investigation.