Forensic Science Bachelor's Degree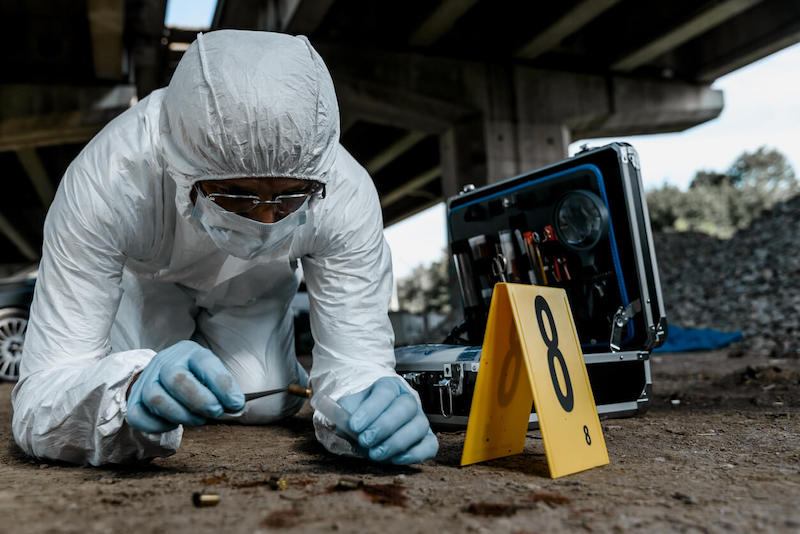 Forensic science is extremely exciting! It's exciting whether you're a trained professional working in the field or are reading about it in a magazine or newspaper. It's also a field that offers both excellent wages and various career choices. Earning a bachelor's in forensic science is a great way for individuals to put themselves in positions where they can choose from various careers. With a degree in forensic science, graduates can also play an important role in the criminal justice system.
What is Forensic Science?
Forensic science is a field that, through the use of chemistry, physics and biology, involves acknowledging, identifying, and analyzing physical evidence. Forensic science has become a vital part of the judicial system because its wide use of sciences helps law enforcement obtain information relevant to legal and criminal evidence. Forensic science is important to law enforcement because it can help prove if a crime was committed, how and where it was committed and who committed the crime. Forensic scientists are able to do this by:
Examining physical evidence
Administering tests
Interpreting statistics and data
Providing accurate and clear documentation
Providing truthful testimony to law enforcement and the court system
Forensic science is organized into various fields, including forensic toxicology, forensic pathology, trace evidence analysis, forensic DNA analysis, forensic psychology, criminalistics, forensic pathology, digital forensics and forensic engineering, among others. The U.S. Bureau of Labor Statistics (BLS) reports that forensic scientists do their work in one or more of the following areas of specialization.
Chemistry – Forensic scientists focusing on chemistry analyze evidence like soil, paint, blood splatters and glass.
Biology – They analyze bodily fluids and hair to determine a certain type and analyze the DNA. They then compare it other people's DNA listed in the law enforcement database.
Controlled substances and toxicology – These scientists examine urine, blood and other bodily fluids for the presence of drugs, alcohol or poison.
Fingerprinting – They take a suspect's fingerprints and compare it to others in the police database to see if there's a match.
Polygraph examination administration – These forensic scientists set up suspects to a polygraph exam where it can be determined if the individual is being truthful. This is done by monitoring the suspect's pulse, blood pressure, skin conductance and breathing.
Firearms identification – These forensic professionals inspect firearms to identify specific characteristics about the firearm and the bullets, so they can determine the gun type, manufacturer and even how a bullet was shot.
Document examination – These forensic scientists analyze document dating, handwriting, computer printing, typewriting and potential forgery.
Program Highlights
The bachelor's in forensic science program is a four-year program that requires completing around 120 credits. Forensic science undergraduate programs can be found at many colleges and universities. The degree is also offered as a hybrid or a 100% online program at some schools. Students in online programs are able to complete most of the courses over the Internet. They're usually responsible for finding an internship in their local area.
Students enrolled in an online program work at their own pace and may be able to finish the program quicker than four years or may take longer. Some of the schools offer credits to students who already have some kind of military experience, police training or equivalent professional experience. Forensic science careers are plentiful to graduates of a bachelor's in forensic science. Some common bachelor's in forensic science programs include:
Bachelor of Science in Forensic Science
Bachelor of Science in Criminal Justice
Bachelor of Science in Investigative Forensics
Bachelor of Arts in Criminal Justice
Bachelor of Science in Criminal Forensics
Bachelor of Science in Criminal Justice – Forensics Investigation
Students pursuing careers that require or offer certification generally receive sufficient training, so they're prepared to take certification exams upon graduation.
Potential Job Titles
Earning a bachelor's in forensic science opens up many possibilities to the aspiring forensic specialists. Graduates are qualified to work directly with law enforcement agencies, in crime laboratories or out in the field aiding in solving crimes. They may also find positions working in the court system. Here are some of the many potential job titles available to graduates of a forensic science bachelor's degree program.
Detective
Analytical chemist
Toxicologist
Forensic computer analyst
Biomedical scientist
Forensic science technician
Arson & fire investigator
Crime lab analyst
Forensic accountant
Career and Salary Outlook
Completing a bachelor's in forensic science program puts candidates in the position where they can pursue excellent jobs that offer good pay. Here are a few of the positions found by graduates as well as wages earned and potential job outlook from 2016-2026. These figures come from the BLS as of May 2017.
Forensic science technicians earned wages ranging from $33,880 to $95,600 with an average wage of $61,220. They're predicted to experience a 17% job growth.
Detectives' wages ranged from $28,780 to $86,730 with the average being $55,080. Their predicted job growth was 11%.
Police officer wages went from $35,020 to $100,610 with their annual wage at $64,490. Police officers should experience a 7% job growth.
Blood splatter analysts, forensic medical examiners, crime lab analysts and crime scene investigators are categorized as forensic science technicians by the BLS. These professionals earned wages ranging from $33,880 to $95,600 with an average wage of $61,220. They're predicted to experience a 17% job growth.
It's important to realize that salaries can vary a lot by location, training, certifications, experience and employer. Career outlook can also be affected by location. For instance, police officers or detectives typically have more career opportunities in large cities than in small towns.
Sample Curriculum
The curriculum for the bachelor's in forensic science program is comprised of some general education courses during the first year and major courses during the final years. Some of the courses are related to criminal justice in general, and others are focused on forensic science. During the second half of the program, usually the final year, students complete an internship or externship at a law enforcement setting or in a laboratory.
The type of internship general coincides with the area of specialization the student has chosen. For instance, a student focusing on blood splatter analysis would complete an internship in a police lab while a student focusing on becoming a deputy would typically complete the internship in a sheriff or police department. Courses found in a bachelor's in forensic science program might include:
Criminology
Forensic pathology
Techniques of criminal justice
The law on evidence
Investigative and forensic interviewing
Intro to criminalistics
Criminal investigation
Physical methods in forensic science
Criminal law and procedure
Sources:
https://www.bls.gov/ooh/life-physical-and-social-science/forensic-science-technicians.htm
https://www.bls.gov/careeroutlook/2009/spring/art02.pdf